Using Good Work to attract and retain talent
The nature of work has been transformed by technological changes, demographic and social shifts, and green transitioning. As companies navigate these trends and take stock of lessons learnt, urgency is mounting to redesign people processes and work practices to create a new vision for the future of work.
Consequently, retaining and attracting the right talent is becoming more important and more difficult as the social contract between employer and employee changes and the world becomes more borderless.
Mercer's Global Talent Trends 2022–2023 Study shows that relatable organisations are coming off mute on what they stand for and setting "good work" standards that reflect all stakeholder values.
The World Economic Forum (WEF), in collaboration with Mercer, has brought together the Good Work Alliance to develop the Good Work Framework. The framework offers a steadfast and purpose-driven methodology that helps organisations make commitments toward Good Work based on 20 measurable goals.
The Good Work Alliance website is an additional resource that provides standardised metrics and target-setting guidelines. Organisations can use these to set targets and to track and report on the progress of their Good Work journeys.
The website features the 33 metrics linked to the Good Work Goals and provides a standardised definition for each metric. It also features guidelines for how organisations should set targets, determine materiality and report on their progress related to Good Work. The website includes practical implementation guidelines for each goal and case studies showing how members of the Good Work Alliance are making Good Work a reality.
Objectives
Core goals
Expanded goals
Objective 1
Promote fairness on wages and technology 
Ensure at least a living wage for all

Support worker representation and processes for dispute resolution
Take a responsible approach to deploying technology
Use AI and data responsibly

Objective 2

Provide flexibility and protection

Enable all workers to benefit from flexibility, where possible and appropriate

Support national public social protection systems
Support access to benefits
Promote solutions that provide security for independent workers

Objective 3

Deliver on health and well-being

Safeguard total well-being at work

Protect physical and psychological safety in the workplace
Provide for predictability of hours and boundaries on working time
Ensure that workers feel valued and find purpose in their work

Objective 4

Drive diversity, equity and inclusion

Ensure that the workforce profile reflects the operating market

Drive equal pay and equitable conditions
Enable inclusive participation and build an inclusive culture
Ensure that global leadership reflects workforce composition

Objective 5

Foster employability and learning culture

Provide accessible upskilling and reskilling for the entire workforce

Enable a culture of continuous learning
Ensure talent processes recognise and reward skilling achievements
Cultivate systems and alliances for redeployment
Source: World Economic Forum, 2022–2023.
Five key issues have emerged that need to be addressed to ensure better work for employees and employers alike:
volatility in wages and the cost of living;
divergence on the demand for flexibility;
the silent pandemic in well-being;
an erosion of diversity, equity and inclusion (DEI) gains; 
the need for a reskilling revolution.
Forward-thinking organisations are reinventing themselves under the new shape of work as responsible and innovative employers, making proactive commitments to such goals with corresponding measures that show meaningful progress. Now is the time for organisations to raise the bar and enhance Good Work as they transform. This will lead to positive outcomes for both business and society.
Is your company embracing Good Work?
Take Mercer's six-question
Good Work Assessment
to receive a high-level recommendation for enhancing your organisation's people sustainability.
As the incumbent partner of the WEF on this project, Mercer has insights into how progressive organisations are making Good Work a reality. With our expertise across people topics and our belief in being sustainable at the core, we bring a unique perspective to our clients' workforce challenges. We can help you determine the goals that are most relevant to your business, conduct affordability assessments, and build the metrics and culture that ensure tangible progress against ESG and Good Work commitments.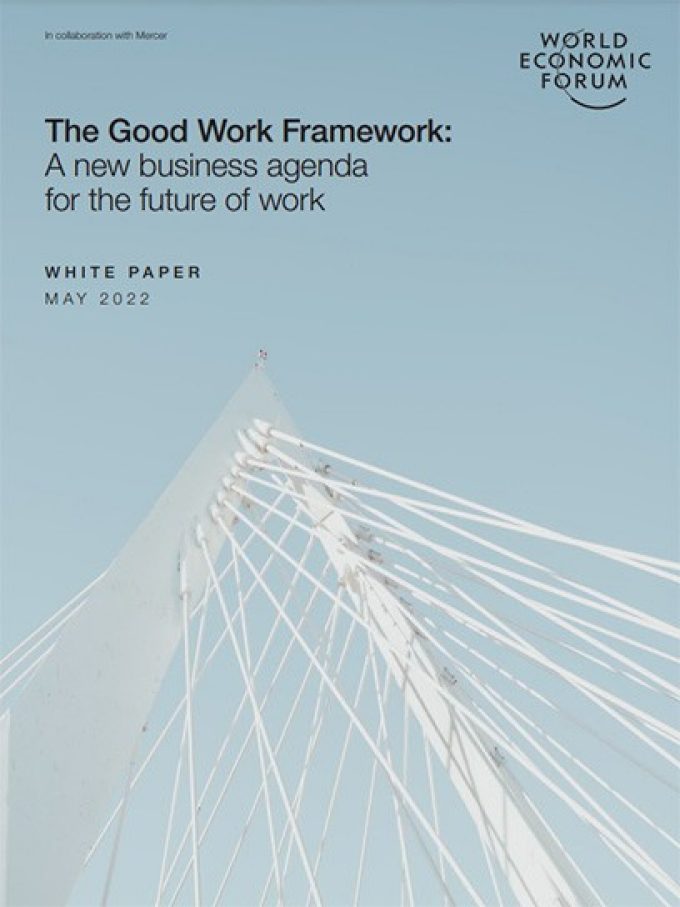 In collaboration with the World Economic Forum (WEF), our new whitepaper The Good Work Framework: A new business agenda for the future of work shares insights into a Framework enabling good work - comprising five pillars with associated goals to address people issues arising from the trends.