The year 2022 will certainly be remembered as momentous, and it may take some time to fully understand the ramifications of the events that occurred this year. Thankfully, the effects of the COVID-19 pandemic finally began to attenuate, although the virus has not completely disappeared. For the first time in decades, Europe had an active military conflict, and, at the time of writing, it is still unclear how that situation will be resolved. Energy prices, due to both the conflict and ensuing policy decisions, increased significantly. On the macroeconomic front, inflation returned with a vengeance and reached levels not seen in 40 years. As a result, for the first time in many investment professionals' careers, we are seeing a significant increase in interest rates.
Any of these events individually would likely have had a profound impact on markets, both public and private. However, in combination, these events, along with other relevant factors, have certainly pulled the rug out from under markets. In our private markets outlook for 2023, we discuss how these significant events are affecting various private market segments and what we expect their ramifications to be in 2023.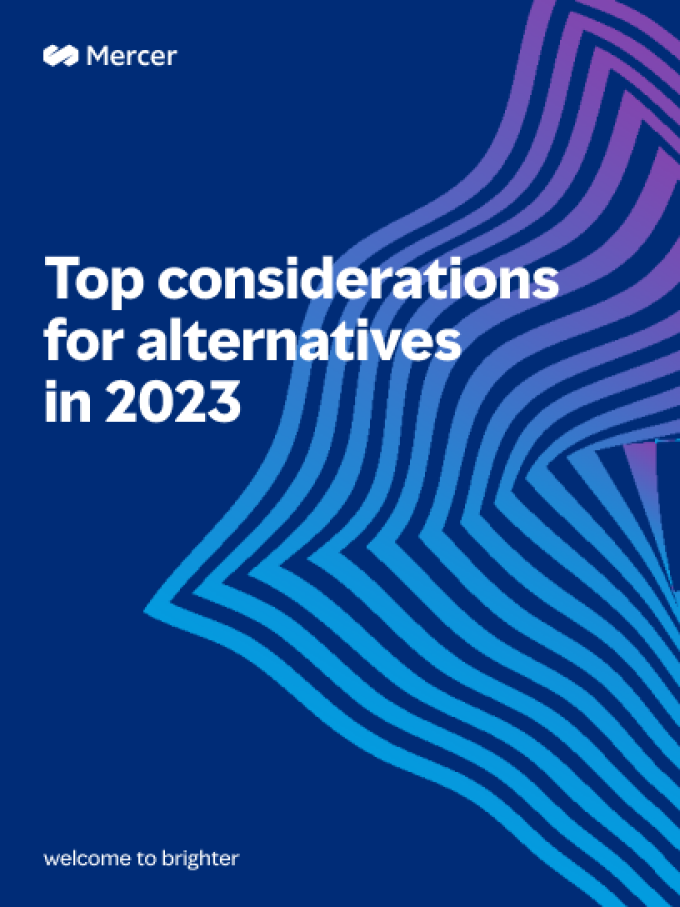 We explore how recent significant events are affecting various private market segments and what we expect their ramifications to be in 2023.
Top considerations for investing in private markets
Private debt

The benefits of private debt during a period of substantial uncertainty, including the flexibility the asset class offers.

Private equity

Whether general partners will accelerate capital calls and commit new capital during a period of declining valuations, which could have implications for performance.

Real estate

The case for which property types are likely to perform better in the current macroeconomic climate as well as how ESG will impact the sector.

Venture capital

Argues that, historically, periods of economic distress have led to the development of next-generation technology products and services.

Asian private equity

The current investment conditions in China and the potential opportunities these circumstances present.

European private equity

Despite economic uncertainty in the region, the current situation may present an opportunity to gain access to general partners who would otherwise be inaccessible.

Infrastructure

Breaks down the issue of how some, but not all, infrastructure assets can provide a degree of inflation protection.

Impact investing

Examines the growth and development of several impact-investing sectors and argues that the current market backdrop may offer a good opportunity to consider an impact-investing programme.
Related investment reports
Investment solutions to suit your needs
Important Information for European Investors
Before accessing this website you must read and accept the following terms and legal notices.
You are about to enter a website intended for sophisticated, institutional investors based in Europe. The information contained herein is intended only for investors who are Professional investors or Eligible Counterparties as defined in Markets in Financial Instruments Regulations 2017 (the "MiFID II Regulations"). Any person unable to accept these terms and conditions should not proceed any further.
In Europe, Mercers Outsourced Chief Investment Officer, Delegated Solutions and other Investment Services delivered through Mercer Funds are delivered by Mercer Global Investments Europe Limited ("MGIE"). Mercer Global Investments Europe Limited, trading as Mercer, is regulated by the Central Bank of Ireland. Registered Office: Charlotte House, Charlemont Street, Dublin 2, Ireland. Registered in Ireland No. 416688. 
Information about Mercer strategies and solutions is provided for informational purposes only and does not constitute, and should not be construed as, an offer to sell, or a solicitation of an offer to buy, any securities, or an offer, invitation or solicitation of any specific products or the investment management services of Mercer, or an offer or invitation to enter into any portfolio management mandate with Mercer. None of the content on Mercer.Com should be considered as advice. No actions should be taken based on this content without first obtaining professional advice. Mercer makes no representation, and it should not be assumed, that past investment performance is an indication of future results. Moreover, wherever there is the potential for profit there is also the possibility of loss. Past performance does not guarantee future results. The value of investments can go down as well as up, so you could get back less than you invest.
Mercer reserves the right to suspend or withdraw access to any page(s) included on this Website without notice at any time and accepts no liability if, for any reason, these pages are unavailable at any time or for any period. The solutions, products and services described in these pages are not available in all jurisdictions.