Connecting the Fuel Tank and the Water Tank

09 August 2017
Water As Long Term Investment Theme
The prosperity required to pay pensions relies on people —and the planet. Climate change has put the planet on investor agendas, and although carbon has taken priority to date, water needs to be next.
For the past five years, the World Economic Forum Global Risks Report has included "water crises" as a top five global risk in terms of impact in the next 10 years. In 2017, four of the five top risks are all connected to water.
Water Management and Related Risks
The most energy-intensive industry sectors are also the most water-intensive. The prosperity that has relied on the fuel tanks is now relying on the water tank.
Water scarcity (too little water) and, at the other extreme, storms and flooding (too much water), are not always caused by climate change, but such events will only increase as the temperature rises.
Areas of Water-Scarcity Stress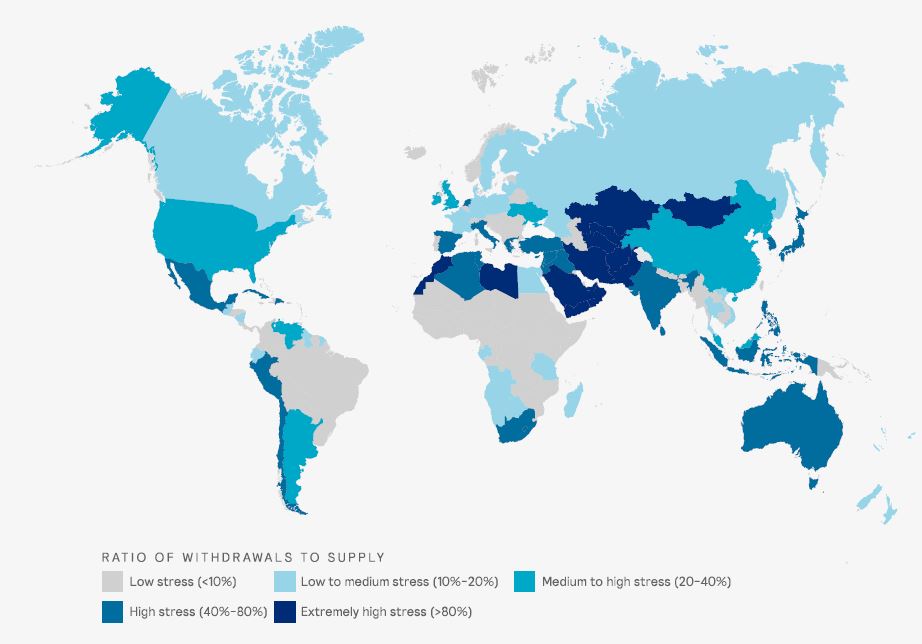 Assessing and Reducing Environmental Investment Risk
Also, in their annual financial statements, most of the companies currently fail to disclose explicit water impacts; that is, specifically attributing water-related issues to lost production capacity or additional cost to secure fresh water to treat waste water.
At the other extreme, too much water, delivered by severe weather events and flooding, creates a different set of issues for investors. The incidents such as hurricanes, destructive storms, river floods - causing evacuations, lost power and damaged infrastructure – can have the economic impacts that last long after the headlines and flood waters have subsided.
Investors must seek out and apply the new tools that are  increasingly becoming available to assess and reduce risk, and exploit new opportunities creates by the disruption to the status quo.
To learn more read the full article Connecting the Fuel Tank and the Water Tank.
How Can Mercer Help?
Mercer has been leading the field in sustainable investing since 2004. Our RI team has a long history of innovative research, developing new tools and processes, and partnering with industry leaders. We have championed governance, as with our 2013 report on building a long-term shareholder base through loyalty-driven securities, and we've led in the area of ESG integration, assigning explicit ESG ratings across all asset class strategies as part of our manager research process.  Please fill out the form below and contact a Mercer RI specialist.
Speak with a Mercer Consultant
We're eager to speak with you. Please provide your details below.