Meeting the Individual Retirement Challenge in Aging Asia

15 October 2017
In developed and less developed economies, we are seeing a rapid shift to individual-based retirement savings plans. For many reasons, no one has the "right answer" as to how best to provide such plans. As governments globally and in Asia grapple with this challenge amid the rapidly accelerating ageing of their populations, what solutions are emerging, and what significant questions remain unanswered?
The Global Picture
As of 2015, according to United Nations figures, the world had 900 million people over the age of 60, representing 25 percent of the population. This number is expected to exceed 2 billion (33 percent) in 2050. At the same time, many people globally do not have access to high-quality, affordable savings vehicles.
The Asia Picture
By 2050, China and Japan are expected to have more residents over the age of 65 than the entire populations of countries like Australia, Canada, Germany, France, Italy and the UK. However, the ageing of Asia is not limited to China and Japan. South Korea, for example, is set to see its proportion of people over 65 rise from about 15 percent now to over 35 percent.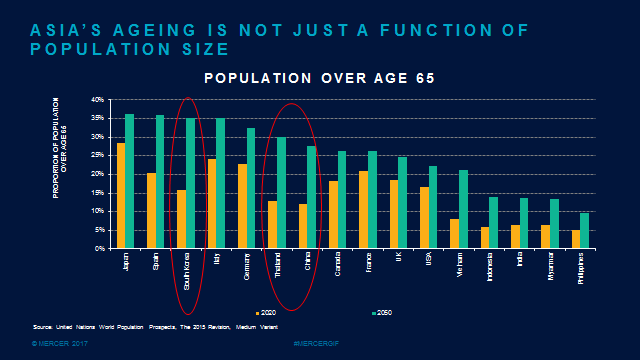 The magnitude of this change will have significant impact, especially as the retirement systems of many economies in Asia currently compare poorly to worldwide standards. In particular, Asian countries face challenges related to capital adequacy, DC contribution rates and the typical level of "growth" assets compared to expected returns.  
The looming and most perplexing question surrounding retirement savings is the challenge of moving from accumulating assets during your working life to drawing down those funds. It is a fundamentally difficult challenge because, of course, no one knows how many years of retirement they will have, and longevity in general is increasing.
Read Full Article
Fill out your details below to download full article. If you do not have your pop-up blocker enabled, you will be prompted by your browser to download the article or to view it in a new window.