Future Returns: Analyzing China's A-Share Market as an Asset Class

21 March 2019
The Mercer report The Inclusion of China A-Shares in MSCI Indices: Implications for Asset Managers and Investors, explains why opening China's domestic market to the global economy has created a wave of excitement throughout the international investment community and marketplace. This enthusiasm is being carefully managed by the measured strategy China and the MSCI are implementing while forging a framework for future growth. The initial phase only weighted 226 stocks at a mere 5 percent of their market cap, demonstrating that this new era will be defined by an incremental, long-term mindset. This cautious approach may be welcome news to competing growth economies in the region. 
Despite the conservative rollout of Chinese A-shares (domestic assets) to the international marketplace, inclusion in the MSCI Index will profoundly impact the global economic landscape, especially with regard to the influence of emerging economies. Take, for instance, what the MSCI Index will look like with the inclusion of 5 percent of Chinese A-shares, and then at 100 percent inclusion. Growth economies such as India, Taiwan and South Korea may be negatively impacted by the inclusion of domestic China in global indexes, especially if investors shift their focus from growth markets to new opportunities in Chinese A-shares.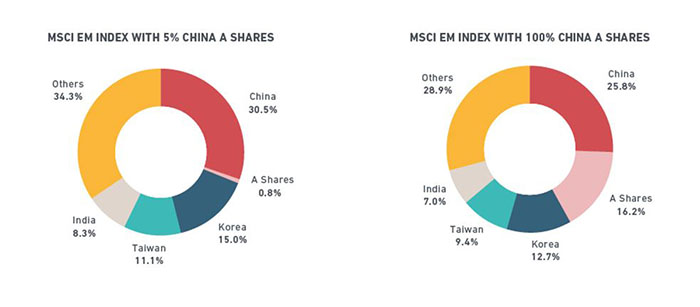 (Source: MSCI)
Change is inherently fraught with breakthroughs, obstacles and the anxiety of the unknown. Though no one can 100 percent accurately predict the future, let's examine the opportunities and challenges of China's new status in the global economy, and what it means to equity investors. 
Speak with a Mercer Consultant
We're eager to speak with you. Please provide your details below.