Personal Stories Highlight a Commitment to Action on Gender Diversity at Our Fifth Annual When Women Thrive Breakfast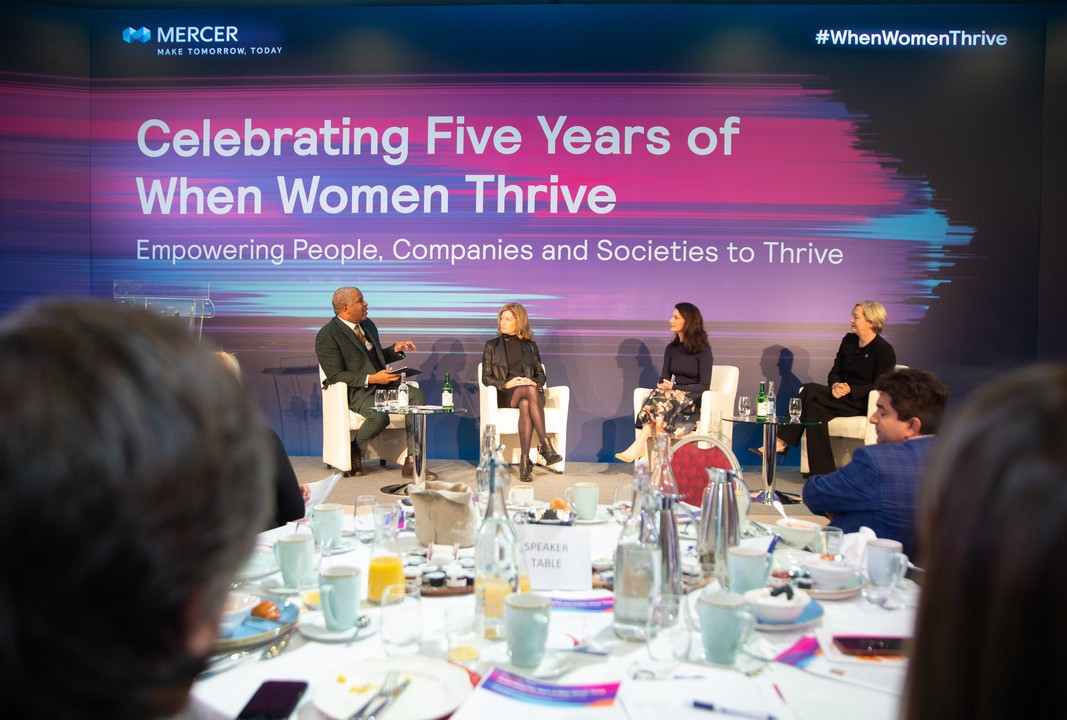 23 January 2019
Earlier today, Mercer celebrated a significant milestone in empowering individuals, companies and societies to thrive, as we hosted our fifth annual When Women Thrive breakfast at the World Economic Forum Annual Meeting in Davos.
The ballroom was filled with C-suite executives, government representatives, academics and leaders from NGOs who joined us for an early morning (7am!) conversation around accountability and transparency, and how to spur change and make a difference for women and under-represented groups in our global workforce. A huge thank you to  Marsh & McLennan Companies President & CEO, Dan Glaser and special guest María Fernanda Suárez, Minister of Mines and Energy of the Republic of Colombia, as well as our moderator Robert F. Smith, Founder, Chairman & CEO of Vista Equity Partners, and our featured panelists Karen Quintos of Dell, Jennifer Saenz of Frito-Lay North America, and Carolyn Tastad of P&G.
After five years of expressing passion for gender equality, there's a fresh urgency to shift our focus toward the need for concrete and measurable actions that will help organizations drive change. Here are some of my key takeaways from this morning:
1 - Caregiving can be shared by more than the mom. While it is customary for women to take on caregiving roles, we often put this expectation on ourselves. Jennifer Saenz from Frito-Lay stated that there are others in our support system that can and should share this role. As Jennifer put it, "there are other caregivers around you – and you can't be afraid to ask for help. If you articulate a need, you'll be surprised how much people want to help you."
2 - Love them or hate them – quotas work. María Fernanda Suárez joined our Leadership Dialogue with Dan Glaser at the recommendation of Colombia President Iván Duque, who regrettably was unable to attend as planned due to the recent terrorist attack in Bogota. Minister Suárez's passion for diversity was striking. In her remarks, she pointed squarely at quotas when asked about the success of President Duque's administration with racial, ethnic and gender diversity. She pressed our guests to do more, saying: "I do believe that while starting the conversation is important, it's not enough."
3 - Personal stories – of success and failure – demonstrate commitment and drive change. We heard a lot of personal stories during our 90 minutes, which leads me to emphasize the importance of storytelling, modeling the right behaviors and demonstrating authenticity in leadership. I particularly enjoyed listening to Carolyn Tastad from P&G share that in her first brush with someone suggesting that she was a diversity hire, she quite simply responded: "Why, because I'm Canadian?"
Similarly, Karen Quintos of Dell, recalled hearing about a potential role and telling herself "There are so many other people more qualified." Karen's story highlighted how important it is to surround yourself with people who nudge you forward, to ask you, "Why wouldn't you want to do it?" As she notes, "You have to have that belief in yourself and you have to have advocates and sponsors that see something in you."
These weren't all success stories – we also talked about why it's important for leaders to talk about when they missed the mark, too. As leaders and executives, we have to recognize that our teams are listening and watching to see if what we say matches our actions.
4 - Technology can help – or it can harm. Robert Smith talked about his career path into tech, saying "I was fortunate to find an on-ramp to technology at a young age, and it changed my life." But he's transparent about the possibility of technology solutions continuing to perpetuate bias, citing artificial intelligence systems and algorithms that have been built with the same biases as the architect. 
5 - Imagine a future where diversity is celebrated. "You don't lose the value and the quality [of employees]," Dan Glaser shared. "But there's something to be gained… it's not just that differences will not be an obstacle in our careers. No, differences will actually be a celebration of the value we bring to the organization. And we want to go there." I couldn't agree more – and I'm looking forward to that bright future.
We all agree that we absolutely have to be bolder and more accountable for accelerating the pace of change. I left the event grateful to our guests for helping elevate my thinking and renew my energy for the challenges ahead. We're excited about what the future holds for an ongoing partnership in the technology space with Dell, to see PepsiCo's customer centricity efforts in D&I bear fruit, and to bring our commercial partnership with EDGE Certification to clients in the coming year.
I'm also interested to hear your thoughts – what other solutions can employers, NGOs and governments offer to ramp up the pace of progress in diversity and inclusion?
#WEF2019 #WhenWomenThrive