#MercerChats Rewind: Over the Hill or Building Momentum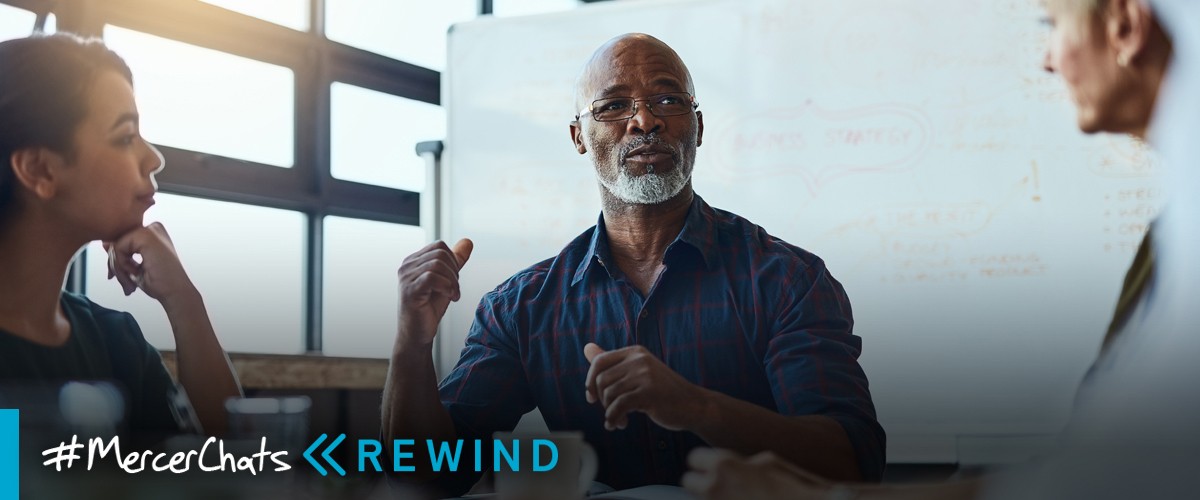 20 November 2018
Each month, Mercer brings together in-house experts and external thought leaders, subject matter experts and influencers for an online discussion of the most pressing issues in the future of work and health. The program is called #MercerChats and takes place entirely on Twitter, where individuals around the world engage with Mercer's intellectual capital and other leading thought leadership to share insights and discuss the best solutions to help organizations thrive. Below is a summary of our July 2019 tweet chat, highlighting some of the key themes discussed and the best insights shared.
From Ponce de Leon's fountain of youth to Kylie Jenner's cosmetics line, the world has long been obsessed with youth and aging. Untold billions are spent every year to stem the steady advance of time, but time waits for no one and we all get older. For now anyways!
Despite this incontrovertible fact, society remains ambivalent on how to manage our aging population. For the last 150 years or so, we've embraced the notion of retirement, whereby people of a certain age are excused from the workforce in order to pursue other interests. In the last century, we codified retirement by instituting pension plans and social security systems to support us in our post-working lives.
But we're entering a new era of aging. As societies around the world get older and lifespans get longer, aging employees are remaining in the workforce instead of retiring. This trend has led to today's unprecedented workforce, with four generations comingling in one talent pool. HR professionals and people managers forced to reconcile this diversity are struggling to understand what makes aging employees different, and worse yet, some are altogether ignoring this important distinction.
At Mercer, we're working to overcome this ageism. Our new perspective on aging and diversity, Next Stage, highlights the need for greater awareness around an aging workforce and the implications it has for employers all over the world. But we're not the only ones with a perspective, which is why we invited the world's preeminent thought leaders together for a discussion of the issue. Here's a quick summary of what we learned.
Stop Lunging at Tech Skills
The talent gap is top of mind for most senior executives and HR leaders, but closing it doesn't mean ramping up campus recruiting. As we look at the critical needs for the future of work, STEM and other cutting edge skills (though important) aren't at the top of the list. Instead, it's the human skills that matter.
As the world becomes more reliant on technology, our humanity will be the greatest differentiator. Strategic thinking and empathy are critical needs for tomorrow's workforce, and these skills are not the exclusive domain of younger employees. As our #MercerChats panelists shared, HR is searching for the very skills that aging workers bring to the table, and they'd be best served not to overlook this talent pool. Rather, people managers should look for ways to match hard tech skills more prevalent in younger workers with the experience, empathy and wisdom of aging workers. 
A New Dimension to Diversity
Combining complementary skills from disparate groups to drive better team performance... now where have I heard that before? That's right. The same lessons that HR learned from the adoption of diversity & inclusion policies also apply to aging workers, and we can wield those same solutions to achieve better results.

Mercer's own research found that diverse teams that include employees over the age of 50 can outperform those that don't, and it's not difficult to see why. Lower turnover, greater life and professional experience, embedded mentorship, less groupthink. There's a multitude of reasons why age diverse teams are disproportionately successful, and all of them should all be familiar to HR professionals and people managers. Age is a new frontier in diversity & inclusion, and we would be wise to explore it.  
Flexing is Always an Option
But what does this mean for the modern workplace? We were promised greater flexibility, a decentralized workforce, and more personalized benefits in the future of work. What's to become of the dream of a reimagined employee experience? Good news – we can still have it.

HR can continue to pursue digital transformation and workforce modernization while catering to an age diverse workforce, partially because the outgrowth of those exercises benefits older workers as much as anyone else. Flexible work schedules. On-site healthcare solutions. Personalized benefits options. These elements of a modern employee experience program are as relevant to an employee in their 60s as they are to those in their 20s. When it comes to a better working experience, age really is just a number.
A6 Although our priorities shift over time, I think workers of all ages value flexibility. Flexible job structure. Flexible hours. Flexible benefits. Flexible assignments. Trust your people to make sound decisions that honor their professional and personal interests. #MercerChats

— Kathleen Kruse (KK) (@kkruse) 29 de octubre de 2019
Conclusion
Conclusion
Aging is in everyone's future, but it's happening now for senior leaders and HR around the world. The longer organizations overlook aging workforces, the more difficult they'll find it to retain and benefit from this valuable (and growing) portion of the talent pool. If there's anything to learn from our amazing discussion with global experts, it's this:
Don't overlook aging employees – With aging societies come aging workforces, and HR must find a way to support them.

Embrace life-long learning – Whether for yourself or for your organization, don't rely on your current skills to carry you through the future of work. Young or old, we all need to accept and embrace change.

Harness the power of diversity – It's a familiar lesson applied to a new demographic, but the value of experienced workers cannot be overstated.