ESG metrics in incentive plans: Europe and North America compared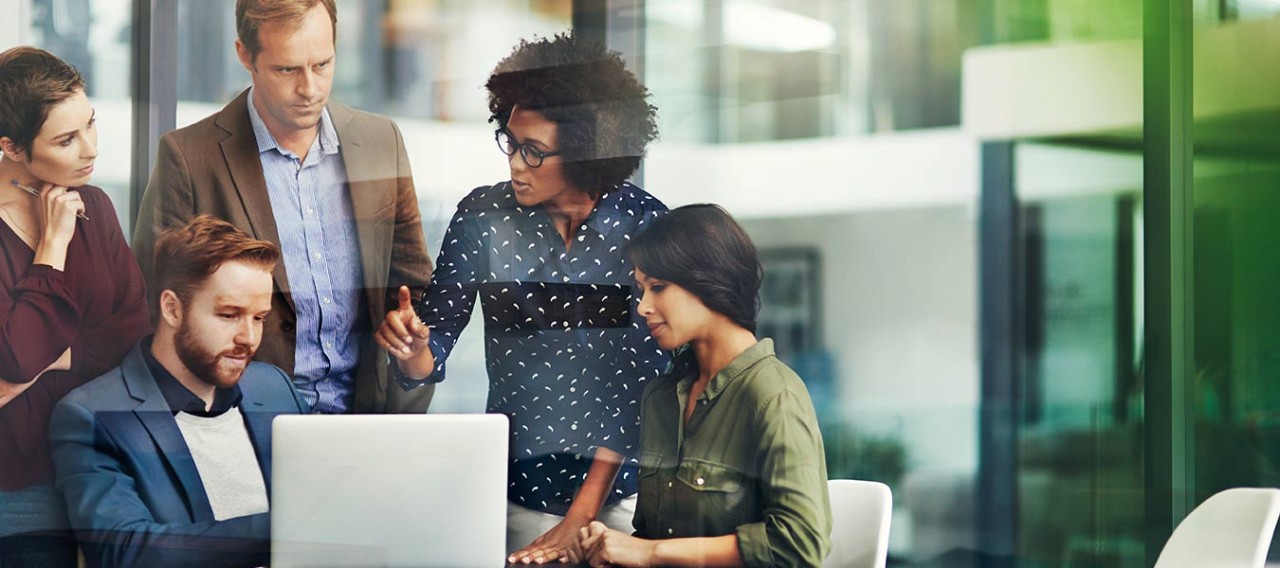 04 December 2019
Companies are facing increasing expectations from stakeholders to operate in an environmentally and socially conscious way, not least from their own employees. In a 2016 Cone Communications study, three-quarters of millennials in the US suggested that they would take a pay cut to work for a socially responsible company, and a similar proportion considers a company's social and environmental commitments before deciding where to work. It's no surprise, therefore, that executives are starting to take note. Mercer's 2019 Global Talent Trends Study shows that nearly 40% of executives around the world are concerned about corporations' responsibility to address societal issues, up significantly from 20% the year before.
Investors increasingly want business leaders to focus on environmental, social and governance (ESG) factors too, as evidenced by the recent statement from the Business Roundtable, an association of some 200 American CEOs, committing to support and protect the environment by embracing sustainable practices across businesses. Meanwhile, the French Corporate Governance Code now requires an ESG measure in either the annual bonus or long-term incentive plan. In this context, progress on ESG may no longer be just a nice-to-have.
A clear way to demonstrate commitment to advancing ESG goals is by linking executives' compensation to sustainability and purpose. To capture a snapshot of this trend, Mercer conducted two spot surveys: one in North America (the US and Canada) and one in Europe. The survey examined the prevalence and types of ESG metrics used in incentive plans. Mercer defined environmental metrics as a measure of the environmental impact of a technology or activity, social metrics as a measure of employee engagement, and governance metrics as a measure of diversity and inclusion. Almost 200 organizations took part in total: 135 from the US and Canada, and 64 from across Europe.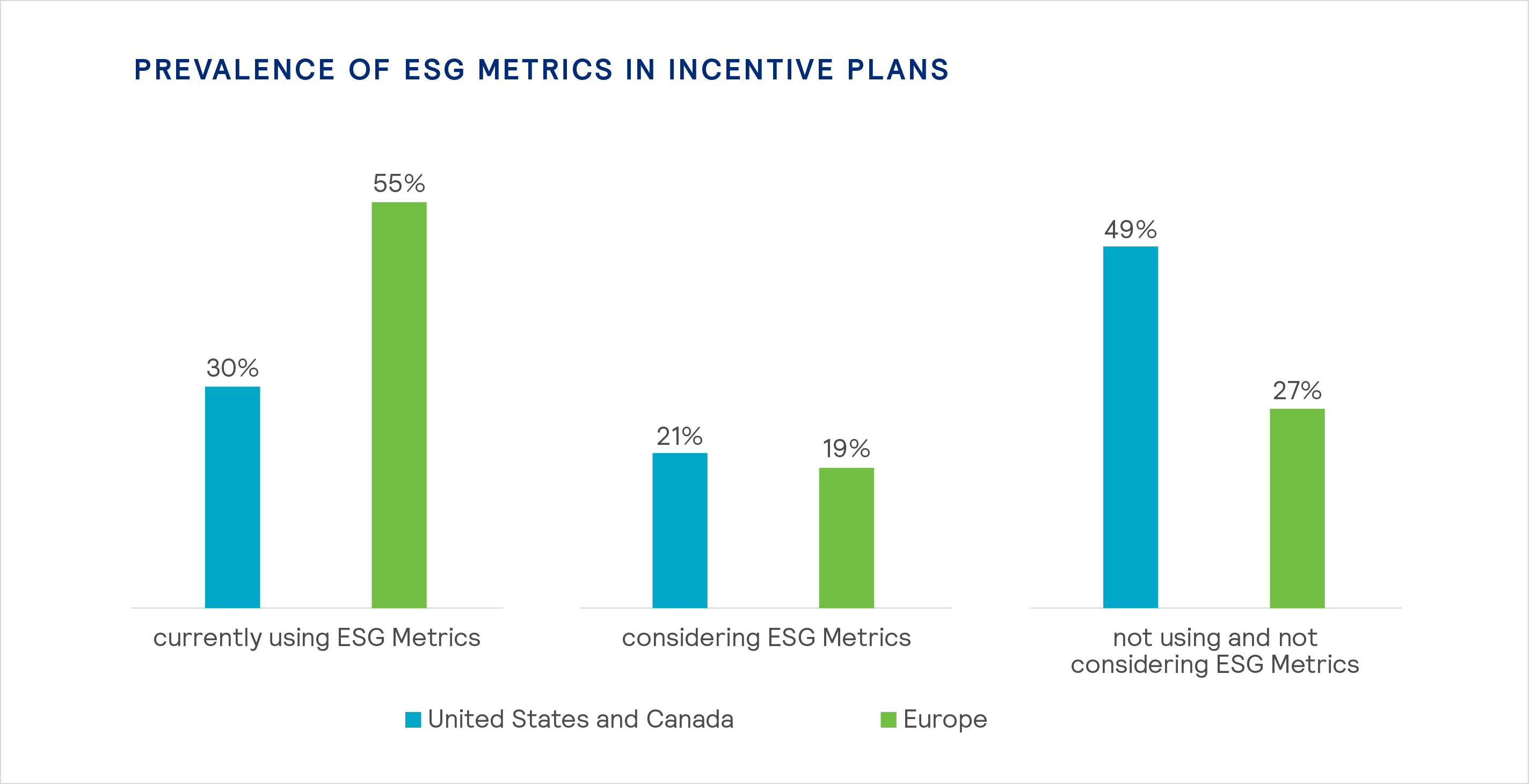 In Mercer's surveys, at least half of companies that responded are currently using, or are considering using, ESG metrics in their incentive plans. European companies are more inclined to use them today than their North American counterparts, however, with over half of participants in Europe already using them compared to 30% in the US and Canada. Sectors where there is a strong focus on ESG include energy, life sciences and mining & metals.
Mercer's findings chime with other studies on this topic. According to the Global Sustainable investment Alliance (GSIA), a little over half of assets from large asset managers are invested in sustainable investing in Europe. That number is a quarter in the US, but increasing at around 20% CAGR.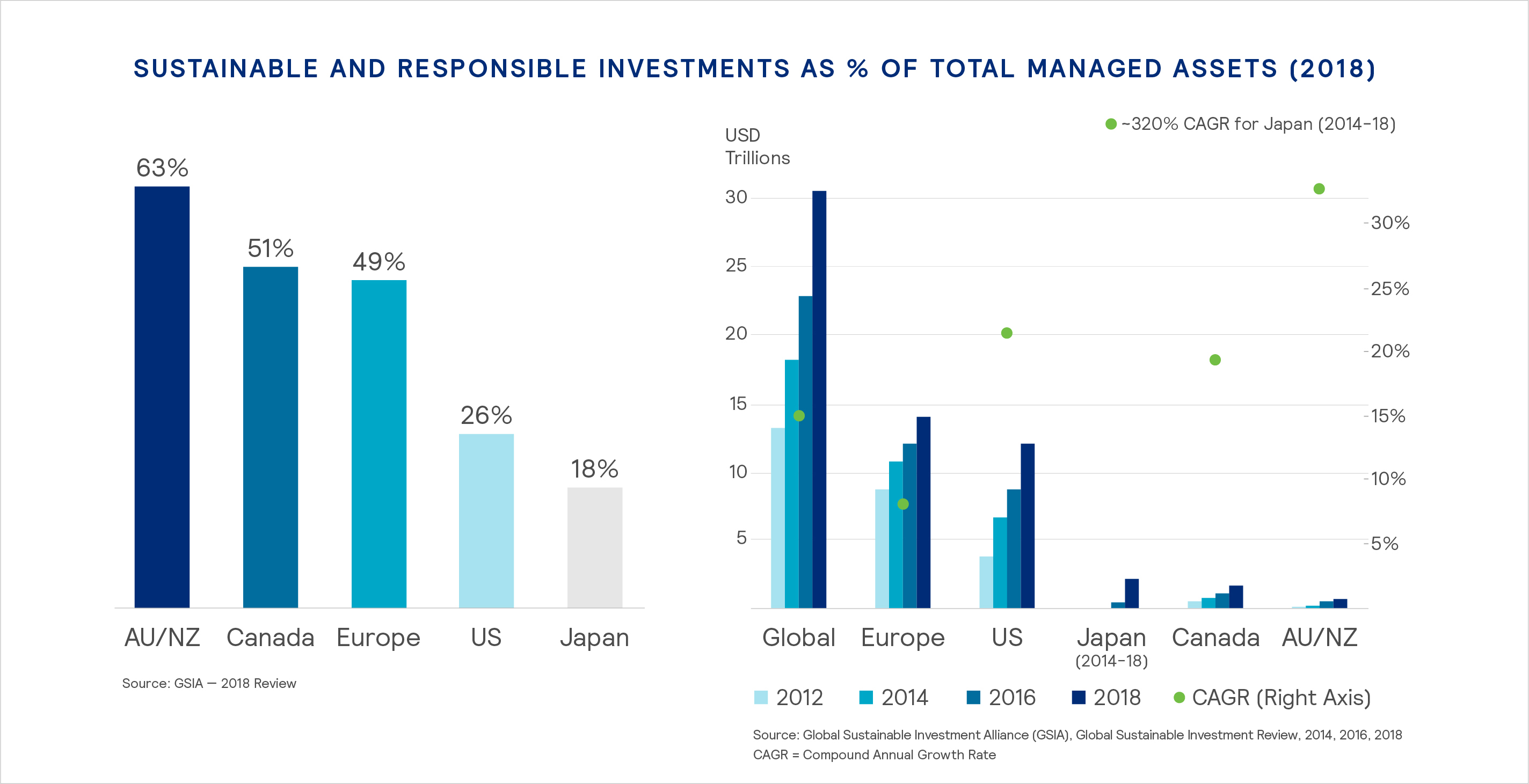 In our surveys, ESG metrics are most typically used in short-term incentive plans (44% of respondents in Europe and 21% in North America) compared to long-term incentive plans (2% of respondents in both studies). This may reflect the relative immaturity of ESG-based incentives, with companies reluctant to lock in three-year targets. 
Which metrics get measured in short-term incentive plans?

So which of the ESG metrics are companies most concerned about? In Europe, social metrics (related to employees) are the most prevalent in respondents' short-term incentive plans (59% of respondents), followed by the environment (50%). These are also the top two metrics in the US and Canada, but with environmental metrics so far the most prevalent – perhaps influenced by sector-related factors (the energy sector accounted for 20% of North American respondents).
Companies tend to favor non-financial metrics that are consistent with their culture or future goals. For example, companies in traditionally "dirty" industries may focus on environmental factors as might those for whom superior environmental performance is part of the brand. Meanwhile, companies for whom people are the most critical asset may include employee-related social metrics.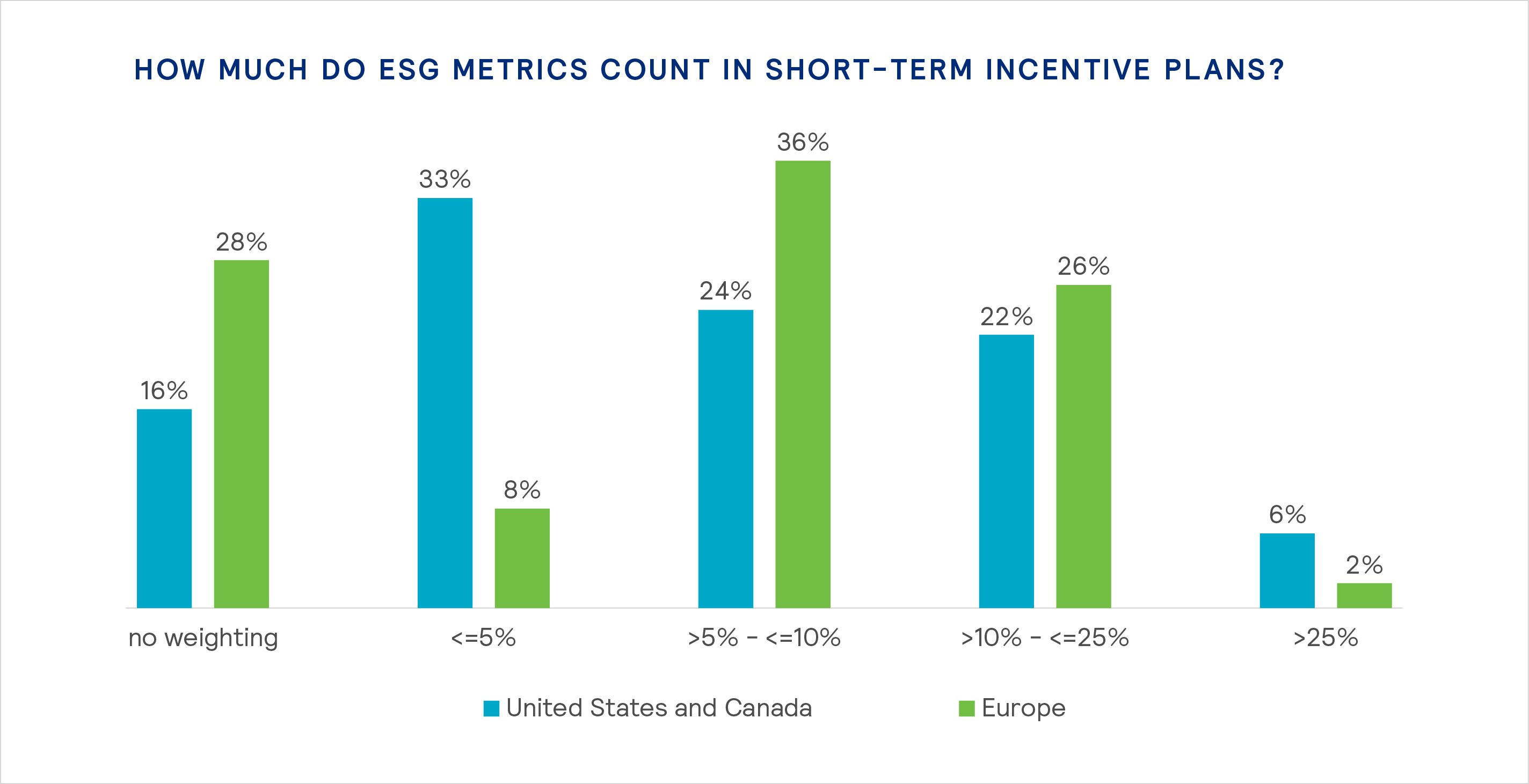 After delving into what companies measure, it's important to consider the importance – or weight – assigned to ESG metrics in incentive plans. Mercer's data shows that companies in Europe give more weight to ESG in their short-term incentive plans than North American companies; indicating they believe in placing more emphasis on ESG and/or have greater confidence in their ability to effectively integrate ESG metrics into compensation packages. Nearly two-thirds of European firms give at least a 5% weighting to ESG metrics as a percentage of all plan metrics, compared to half of North American organizations. While European companies are placing more emphasis on ESG in incentives, those in the US and Canada may still be measuring ESG progress against non-incentive metrics. We believe that these percentages will grow as companies become more comfortable with the use of these metrics for rewards purposes. 
Long-term incentive plans: Environmental factors dominate

In both Europe and North America, environmental metrics are the most prevalent ESG metric in respondents' long-term incentive plans, with employee engagement and culture in second place. For European firms, Mercer's data reveals it's most common for ESG metrics in long-term incentive plans to apply to all incentive plan participants, rather than just senior executives, although this is not the case for short-term incentives. Only environmental metrics used in short-term incentive plans typically apply to all incentive plan participants. Conversely, in North America ESG metrics used in both short- and long-term incentive plans generally apply to all incentive plan participants.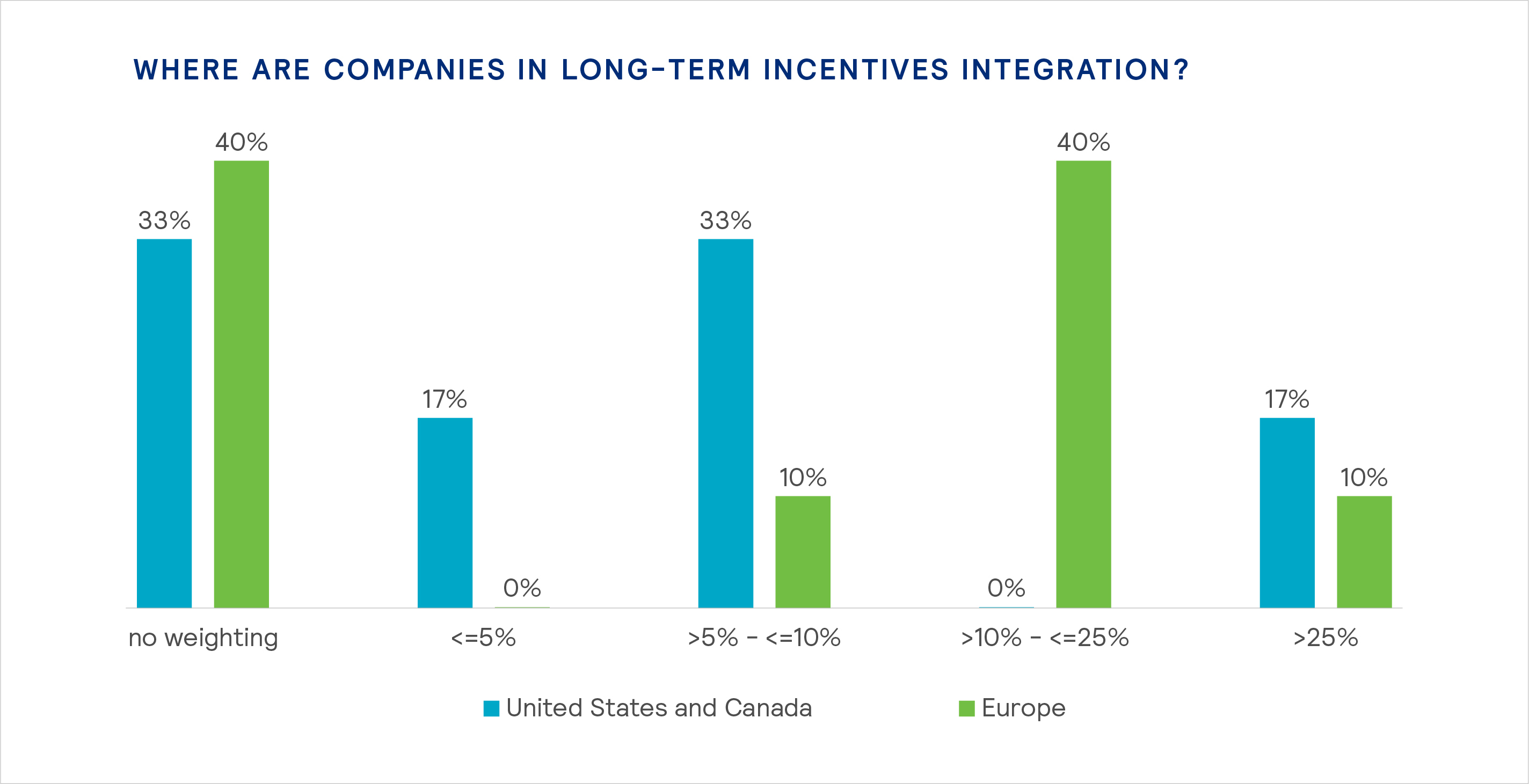 Weightings of ESG metrics in long-term incentive plans in Europe are a little higher than the US and Canada, which, like for short-term incentives, may indicate that European companies believe in placing more emphasis on ESG and/or have greater confidence in their ability to effectively integrate ESG metrics into compensation packages than North American companies. 
Does it pay to pay for ESG objectives?
Integration of ESG issues into executive, and workforce, pay is in its infancy. However, it is clear that governments, investors, customer and employees are increasingly of the view that business performance cannot focus on shareholder value alone and are looking for companies to consider the impact they have on a wider set of stakeholders and on sustainability.
In this context, there is a strong probability that including ESG measures in the reward package will effectively become a requirement – particularly in Europe. Mercer is therefore encouraging clients to think about the extent to which it is, or may become, desirable to include ESG metrics in incentives by asking the following questions:
To what extent would a stronger focus on ESG make the company a more attractive investment for ethical or sustainability funds?

Would a reward focus on ESG increate the company's credibility from a license-to-operate or regulatory perspective?

Could a strong message about ESG, with a linkage to pay, play a part in creating competitive advantage with customers?

Are there ESG priorities that are essential to strategy and/or business success?
Following this, the next step, if applicable, would be for the Compensation Committee and rewards function to partner with other parts of the business to identify key ESG priorities and the measures available. This would require taking into account the robustness of the measures and potential unintended consequences given that measurement of ESG is much less mature than for financial measures such as profit, cash flow revenue and returns.
Where there are suitable measures, it might be sensible to start small with modest weightings. Indeed, some of Mercer's European clients are doing a trial run of ESG bonus metrics in 2020 with a zero weighting with a view to full implementation in 2021. At the other extreme, our client DSM, a Dutch multinational, has used ESG measures for many years and bases 50% of its long-term incentive on environmental measures.
There is also a question as to how the ESG metrics should operate. Should they be part of the scorecard or should they be a downwards-only multiplier? Choice may depend on the nature of measure and targets. For example, energy efficiency or reduced CO2 per unit of production could be part of the scorecard whereas some safety metrics (say, related to fatalities) might be better used as a downward adjuster. We also recommend giving discretion for the Compensation Committee, Board or other relevant governance body to make adjustments to deal with any unintended outcomes and to determine the extent (if any) to which there should be a payout for ESG if financial thresholds are missed.
So far, there are differences in how European and North American companies are incorporating ESG into incentives. Perhaps this is attributable to higher levels of interest in ESG among European asset owners relative to North American asset owners and/or a higher level of sophistication at European companies in navigating ESG. It is not completely clear. What is clear is that as asset owners become increasingly interested in ESG, companies will likely need to determine if and how they might integrate ESG into their incentives.