· 10-year forecast shows Europe and North America struggling for workforce parity; Asia ranks last
· Only 9% of organizations offer women-focused health, financial wellness with US/Canada ranking first
· Leaders urged to focus on executive engagement and pay equity
Women are under-represented in the workforce globally, and if organizations maintain the current rate of progress, female representation will reach only 40% globally in the professional and managerial ranks in 2025, according to Mercer's second annual When Women Thrive global report.
Among the key trends revealed in the report is that women's representation within organizations declines as career levels rise – from support staff through the executive level (see Figure 1).
"The traditional methods of advancing women aren't moving the needle, and under-representation of women around the world has become an economic and social travesty," said Pat Milligan, Mercer's Global Leader of When Women Thrive. "While leaders have been focusing on women at the top, they're largely ignoring the female talent pipelines so critical to maintaining progress.
"This is a call-to-action – every organization has a choice to stay with the status quo or drive their growth, communities and economies through the power of women."
Mercer's report finds that although women are 1.5 times more likely than men to be hired at the executive level, they are also leaving organizations from the highest rank at 1.3 times the rate of men, undermining gains at the top.
According to the When Women Thrive report, women make up 40% of the average company's workforce. Globally, they represent 33% of managers, 26% of senior managers, and 20% of executives.
In terms of regional rankings, Latin America is projected to increase women's representation from 36% in 2015 to 49% in 2025; followed by Australia/New Zealand moving from 35% to 40%; US/Canada improving by just 1% from 39% to 40%; Europe remaining flat at 37% in 2015 and 2025; and Asia ranking last at 28%, up from just 25% in 2015 (see Figure 2).
"In 10 years, organizations won't even be close to gender equality in most regions of the world," said Ms. Milligan. "If CEOs want to drive their growth tomorrow through diversity, they need to take action today."
The research – the most comprehensive of its kind featuring input from nearly 600 organizations around the world, employing 3.2 million people, including 1.3 million women – identifies a host of key drivers known to improve diversity and inclusion (D&I) efforts.
"It's not enough to create a band-aid program," said Brian Levine, Mercer's Innovation Leader, Global Workforce Analytics. "Most companies aren't focused on the complete talent pipeline nor are they focused on the supporting practices and cultural change critical to ensure that women will be successful in their organizations."
Only 9% of organizations surveyed globally offer women-focused retirement and savings programs with the US/Canada ranking first (14%), despite Mercer's research proving that such efforts lead to greater representation of women (see Figure 3).
Other Key Findings
Other key findings of the survey include:
Only 57% of organizations claim senior leaders are engaged in diversity and inclusion initiatives with US/Canada ranking first
Latin America ranks first for engagement of middle managers with 51% vs. 39%, globally
Involvement of men has dropped since the first report in 2014, when 49% of organizations said they are engaged in D&I efforts vs. 38% in 2015; US/Canada rank first for involvement of men at 43%
Only 29% of organizations review performance ratings by gender with Australia/New Zealand ranking first
US/Canada lead on pay equity, with 40% of organizations offering formal pay equity remediation processes, compared to 34% globally, 25% in Asia, and 28% in Europe; but virtually no improvements have been made since 2014
28% of women hold P&L (profit and loss) roles with Latin America ranking first (47%), followed by Asia (27%), Australia/New Zealand (25%), US/Canada (22%), and Europe (17%)
Women are perceived to have unique skills needed in today's market, including: flexibility and adaptability (39% vs. 20% who say men have those strengths); inclusive team management (43% vs. 20%); and emotional intelligence (24% vs. 5%); see Figure 4
US/Canada rank first in providing training to support employees through parental leave as well in offering customized retirement and savings programs by gender
About half of organizations in three key regions – Asia, US/Canada and Latin America – agree that supporting women's health is important to attract and retain women, yet only 22% conduct analyses to identify gender-specific health needs in the workforce
The report also asked organizations about access to and usage of key benefit programs, including part-time schedules, maternity leave, paternity leave, child care, elder care, mentorship and more.
For more information about Mercer's When Women Thrive initiative and to access the report summary, go here.
About Mercer
Mercer is a global consulting leader in talent, health, retirement and investments. Mercer helps clients around the world advance the health, wealth and performance of their most vital asset – their people. Mercer's more than 20,000 employees are based in 43 countries and the firm operates in over 140 countries. Mercer is a wholly owned subsidiary of Marsh & McLennan Companies (NYSE: MMC), a global professional services firm offering clients advice and solutions in the areas of risk, strategy and people. With 57,000 employees worldwide and annual revenue exceeding $13 billion, Marsh & McLennan Companies is also the parent company of Marsh, a leader in insurance broking and risk management; Guy Carpenter, a leader in providing risk and reinsurance intermediary services; and Oliver Wyman, a leader in management consulting. For more information, visit www.mercer.com. Follow Mercer on Twitter @Mercer.
# # #
Figure 1: Women's representation declines as career levels rise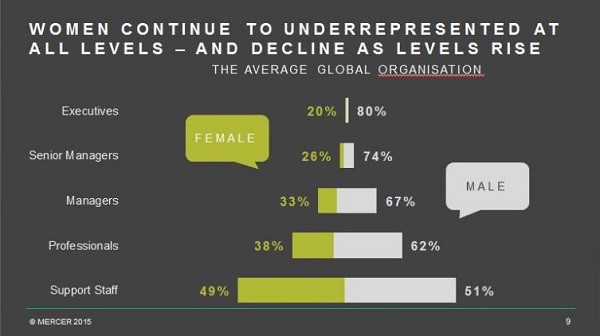 Source: Mercer, When Women Thrive report
Figure 2: Current and projected 2025 female representation at the professional career level and above if talent flows maintained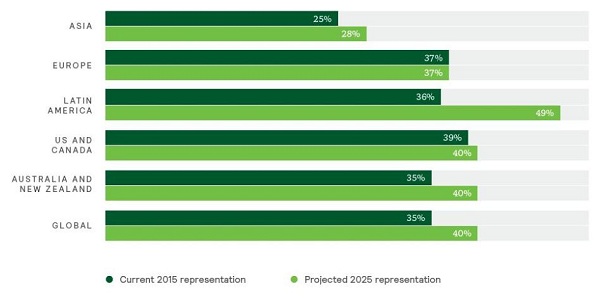 Source: Mercer, When Women Thrive report
Figure 3: World rankings on key diversity efforts, from executive involvement to pay equity and women-focused retirement savings programs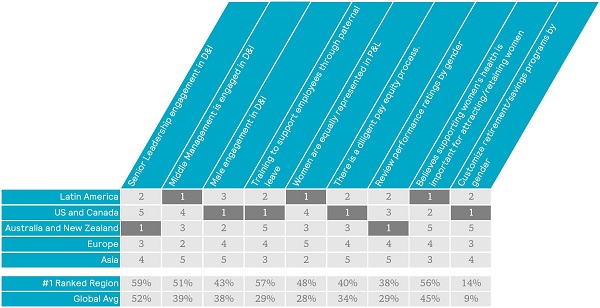 Source: Mercer, When Women Thrive report
Figure 4: Skills of women and men are unique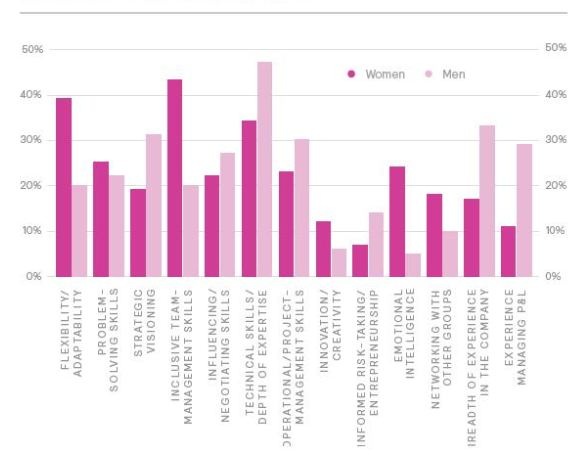 Source: Mercer, When Women Thrive Report