· Funded status remained constant from the previous month as decreases in pension liabilities due to rising interest rates were largely offset by equity market declines
· Funded status has been levelling off since the beginning of the year, however deficits remain above 2013 year end levels
· Interest rates increased approximately 20 basis points from last month resulting in the first meaningful monthly increase in interest rates this year
· Pension liabilities decreased by $180 billion, by far the largest monthly decrease in liabilities this year
The estimated aggregate funding level of pension plans sponsored by S&P 1500 companies remained at 84% at the end of September 2014. Increases in interest rates used to calculate corporate pension plan liabilities offset falling equity markets, holding funded status constant. The collective estimated deficit of $352 billion as of September 30, 2014, is down $17 billion from the estimated deficit of $369 billion as of August 31, 2014, and up $116 billion from the beginning of the year according to Mercer.[1]
The S&P 500 index dropped by 1.6% during September. Typical discount rates for pension plans as measured by the Mercer Yield Curve increased by 20 basis points to 4.10%, driving liabilities downward, and offsetting the decrease in plan assets.
"The increase in interest rates and decrease in equities this month is the first major deviation from the trend of decreasing interest rates and increasing equities that we have seen throughout 2014," said Jim Ritchie, a Principal in Mercer's Retirement Practice. "Rising interest rates gave us our largest monthly decrease in pension liabilities this year, but unfortunately the reduction in liabilities was largely offset by losses on assets. This change in trends in 2014 is a good reminder that plan sponsors should stress test their risk management strategies to better understand how their strategies will hold up when markets change course. We just saw in the past week two significant annuity buyouts in the market place , and anticipate many other sponsors will be seriously exploring buyout and other risk transfer strategies to better manage their pension risk, especially if interest rates start rising."
Mercer estimates the aggregate funded status position of plans operated by S&P 1500 companies on a monthly basis. Figure 1 (next page) shows the estimated aggregate surplus/(deficit) position and the funded status of all plans operated by companies in the S&P 1500. The estimates are based on each company's year-end statement[2] and by projections to September 30, 2014 in line with financial indices. This includes US domestic qualified and non-qualified plans and all non-domestic plans. The estimated aggregate value of pension plan assets of the S&P 1500 companies as of December 31, 2013, was $1.80 trillion, compared with estimated aggregate liabilities of $2.03 trillion. Allowing for changes in financial markets through September 30, 2014, changes to the S&P 1500 constituents, and newly released financial disclosures, at the end of August the estimated aggregate assets were $1.85 trillion, compared with the estimated aggregate liabilities of $2.21 trillion. Figure 2 shows the interest rates used in Mercer's pension funding calculation.
Notes for editors
Information on the Mercer Yield Curve is available at http://www.mercer.com/pensiondiscount.
The Mercer US Pension Buyout Index may be accessed at www.mercer.com/US-pension-buyout-index.
Unless otherwise stated, the calculations are based on the Financial Accounting Standard (FAS) funding position and include analysis of the S&P 1500 companies.
Figure 1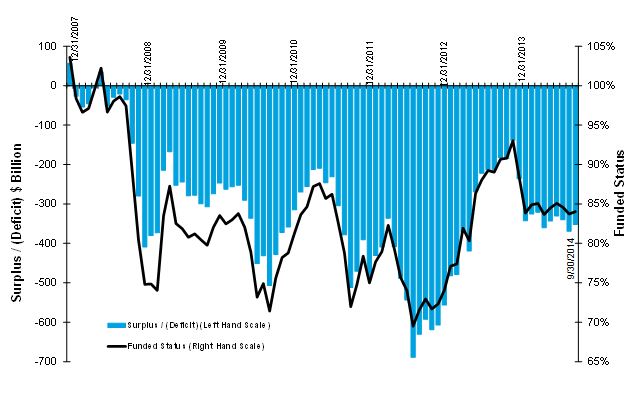 Source: Mercer, September 2014
Funded status figures from 12/31/2013 through 4/30/2013 have been revised to reflect updated 10-K data as of 5/31/2014.
See Figure 2 for High Quality Corporate Bond Yield and S&P 500 data points.
Figure 2: Sample Data Points:
| | | |
| --- | --- | --- |
| Date | | |
| December 31, 2007 | 6.40% | 1,468.36 |
| June 30, 2008 | 6.97% | 1,280.00 |
| December 31, 2008 | 6.34% | 903.25 |
| June 30, 2009 | 6.79% | 919.32 |
| December 31, 2009 | 5.98% | 1,115.10 |
| June 30, 2010 | 5.33% | 1,030.71 |
| December 31, 2010 | 5.33% | 1,257.64 |
| June 30, 2011 | 5.40% | 1,320.64 |
| December 31, 2011 | 4.55% | 1,257.60 |
| June 30, 2012 | 3.87% | 1,362.16 |
| December 31, 2012 | 3.71% | 1,426.19 |
| June 30, 2013 | 4.49% | 1,606.28 |
| December 31, 2013 | 4.69% | 1,848.36 |
| June 30, 2014 | 4.07% | 1,960.23 |
| July 31, 2014 | 4.10% | 1,930.67 |
| August 31, 2014 | 3.90% | 2,003.37 |
| September 30, 2014 | 4.10% | 1,972.29 |
About Mercer
Mercer is a global consulting leader in talent, health, retirement and investments. Mercer helps clients around the world advance the health, wealth and performance of their most vital asset – their people. Mercer's more than 20,000 employees are based in 43 countries and the firm operates in over 140 countries. Mercer is a wholly owned subsidiary of Marsh & McLennan Companies (NYSE: MMC), a global team of professional services companies offering clients advice and solutions in the areas of risk, strategy and human capital. With 55,000 employees worldwide and annual revenue exceeding $12 billion, Marsh & McLennan Companies is also the parent company of Marsh, a global leader in insurance broking and risk management; Guy Carpenter, a global leader in providing risk and reinsurance intermediary services; and Oliver Wyman , a global leader in management consulting. For more information, visit www.mercer.com. Follow Mercer on Twitter @MercerInsights
[1]Figures provided by Mercer Investment Consulting, Inc. Funded status figures from 12/31/2013 onwards have been revised to reflect updated 10-K data.
[2]Source of financial statement data: Standard & Poor's Capital IQ. Standard and Poor's is a division of The McGraw-Hill Companies, Inc. This may contain information obtained from third parties, including ratings from credit ratings agencies such as Standard & Poor's. Reproduction and distribution of third party content in any form is prohibited except with the prior written permission of the related third party. Third party content providers do not guarantee the accuracy, completeness, timeliness or availability of any information, including ratings, and are not responsible for any errors or omissions (negligent or otherwise), regardless of the cause, or for the results obtained from the use of such content. THIRD PARTY CONTENT PROVIDERS GIVE NO EXPRESS OR IMPLIED WARRANTIES, INCLUDING, BUT NOT LIMITED TO, ANY WARRANTIES OF MERCHANTABILITY OR FITNESS FOR A PARTICULAR PURPOSE OR USE. THIRD PARTY CONTENT PROVIDERS shall not be liable for any direct, indirect, incidental, exemplary, compensatory, punitive, special or consequential damages, costs, expenses, legal fees, or losses (including lost income or profits and opportunity costs) in connection with any use of THEIR CONTENT, INCLUDING ratings. Credit ratings are statements of opinions and are not statements of fact or recommendations to purchase, hold, or sell securities. They do not address the suitability of securities or the suitability of securities for investment purposes, and should not be relied on as investment advice.
[3]Assumed duration of approximately 12 years. Based on Mercer Yield Curve Mature Plan Index rate.
[4]Includes price changes only; total returns also include dividends.