Mercer announced today that Mercer Benefits U has earned first place in the ongoing investment education category at the Eddy Awards, the annual recognition by Pensions & Investments magazine of best practices in providing investment education to defined contribution plan participants.
Featuring a college-campus visual theme and a mobile-first design, Mercer Benefits U offers interactive "courses" in three different schools: the School of Retirement, the School of Health, and the School of Total Wellness (See Figure 1). Course topics at the online "university" include "Diversification 101" and "Intro to Flexible Spending Accounts," with a comprehensive curriculum designed to help employee "graduates" learn strategies for taking greater control of their overall wellbeing, including both health and finances.
"This award is a testament to Mercer's success in enhancing the employee experience around health, wealth, and careers," said Sandy McCarthy, Leader of Mercer's US Benefits Administration Business. "Mercer continues to stay ahead of the curve by using consumer research, cutting-edge technology, and targeted content to develop industry-leading products, services, and solutions, ultimately empowering employees to become more confident and informed benefits consumers."
Mercer provides defined contribution, defined benefit, and health and group benefits administration to approximately four million participants in the US.
To learn more about Mercer Benefits U, please visit www.MercerBenefitsU.com
About Mercer
Mercer is a global consulting leader in talent, health, retirement and investments. Mercer helps clients around the world advance the health, wealth and performance of their most vital asset – their people. Mercer's more than 20,000 employees are based in more than 40 countries and the firm operates in over 130 countries. Mercer is a wholly owned subsidiary of Marsh & McLennan Companies (NYSE: MMC), a global professional services firm offering clients advice and solutions in the areas of risk, strategy and people. With 57,000 employees worldwide and annual revenue exceeding $13 billion, Marsh & McLennan Companies is also the parent company of Marsh, a leader in insurance broking and risk management; Guy Carpenter, a leader in providing risk and reinsurance intermediary services; and Oliver Wyman, a leader in management consulting. For more information, visit www.mercer.com. Follow Mercer on Twitter @MercerInsights.
Figure 1 – Mercer Benefits U features the School of Retirement, the School of Total Wellness, and the School of Health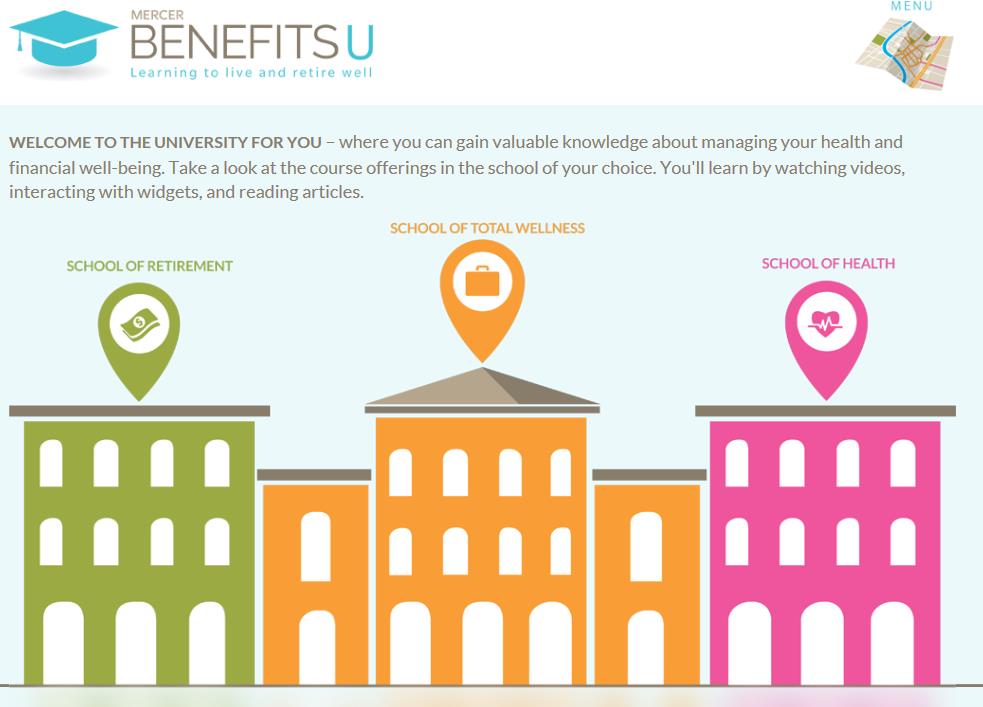 # # #