Mercer, a global consulting leader in advancing health, wealth and careers, and a wholly owned subsidiary of Marsh & McLennan Companies (NYSE: MMC), announced that its Mercer Benefits U video series has earned the firm an Eddy Award. The Eddy Awards are the annual recognition by Pensions & Investments magazine of best practices in providing investment education to defined contribution plan participants. Mercer was honored in the ongoing investment education category.
A popular standard component of the Mercer BenefitsCentralSM solution, Mercer Benefits U features a college-campus visual theme and encourages users to participate in interactive "courses" in three different "schools": the School of Retirement, the School of Health, and the School of Total Wellness (see Figure 1). The video series, strategically placed at key decision making points throughout the site, provides multi-media educational support right at the time it is most needed. This approach helps participants prepare for a host of needs and goals, such as a successful retirement and overall positive health and well-being. Judges called the videos "well done, visually pleasing and easy to understand."
"We are proud to win an Eddy Award once again this year – a true testament to our ongoing commitment to empowering benefits for the millions of people we service," said Ken Haderer, Mercer's Chief Operating Officer. "With two-thirds of US workers telling us that their benefits are one of the main reasons they work where they do[1], it has never been more important for organizations to provide their employees with the tools and resources they need to take control of their physical and financial health. Mercer BenefitsCentral leverages consumer research, leading technology, embedded decision making support and targeted content to help employees do exactly that."
To learn more about Mercer BenefitsCentral, please visit http://www.mercer.us/insights/focus/mercer-benefitscentral.html
About Mercer
Mercer is a global consulting leader in talent, health, retirement and investments. Mercer helps clients around the world advance the health, wealth and careers of their most vital asset – their people. Mercer's more than 20,000 employees are based in 43 countries and the firm operates in over 140 countries. Mercer is a wholly owned subsidiary of Marsh & McLennan Companies (NYSE: MMC), a global professional services firm offering clients advice and solutions in the areas of risk, strategy and people. With annual revenue of $13 billion and 60,000 colleagues worldwide, Marsh & McLennan Companies is also the parent company of Marsh, a leader in insurance broking and risk management; Guy Carpenter, a leader in providing risk and reinsurance intermediary services; and Oliver Wyman, a leader in management consulting. For more information, visit www.mercer.com. Follow Mercer on Twitter @Mercer.
Figure 1: Mercer Benefits U and its three participant "schools"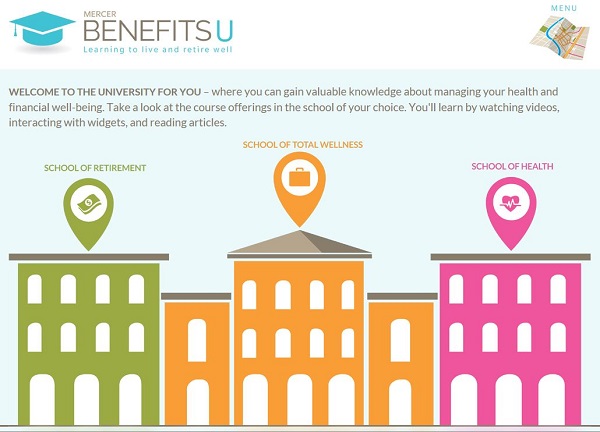 ###

[1] Mercer's 2015 Inside Employees MindsTM Survey.