Most Colorado-based employers believe "ColoradoCare" would have a negative impact on their organizations, according to a recent poll by Mercer, a global consulting leader in advancing health, wealth and careers, and a wholly owned subsidiary of Marsh & McLennan Companies (NYSE: MMC). The Mercer poll of employer health plan sponsors in Colorado reveals how they view Amendment 69, the state constitutional ballot initiative to create a single-payer health plan known as "ColoradoCare," and how they might respond if it were passed.
Respondents expressed little support for the amendment and many concerns about its impact. A strong majority– 82% – believe that ColoradoCare would have a negative impact on their organizations (see Figure 1), and about a third (34%) say they would be less likely to expand operations in the state if it passed.
Employers currently cover almost 2.5 million or about half of all Coloradans* with employer-sponsored health insurance plans. Amendment 69 would aim to replace those plans by imposing a 10% payroll tax, split between the employer and employee, in order to fund ColoradoCare (see below for more details).
The Mercer poll found that employers are concerned about the risks associated with ColoradoCare. At the top of the list is the concern that the coverage their employees would have under ColoradoCare would not be as good as what they have now (70% of respondents are "very concerned" and another 19% are "concerned"). A related concern is that providers would choose not to practice in the state, or would not accept ColoradoCare (68% of respondents are very concerned; 21% are concerned). Many employers also feel the proposed 10% payroll tax would not be enough to finance the system and that employers and their employees would ultimately be asked to pay more (see Figure 2).
"As the first and only single-payer state in country, ColoradoCare would face serious challenges," says Tracy Watts, Mercer's leader for health reform. "A state has limited ability to control cost because so much is regulated at the federal level – such as approval for new prescription drugs and for drug pricing. And while a state can reduce provider reimbursement, the providers always have the option to work elsewhere."
In addition, many employers don't believe the goals of ColoradoCare are aligned with the goals of their organizations. While 80% say that slowing spending on health care in Colorado would be important to their organization, far fewer believe that either the goals of universal coverage (38%) or more streamlined administration (39%) would be important to their organization. And only about a third (31%) say that untying health insurance from employment would be important to their organization.
84% Rate Current System Excellent or Good
According to Ryan Ramsey, Health & Benefits leader in Mercer's Denver office, "One reason that relatively few employers support ColoradoCare may be that a majority say they and their employees are satisfied with the status quo." Survey respondents were asked to rate the current health care system in Colorado – the health plans and healthcare providers that are available to them – in terms of affordability, quality and employee satisfaction. More than one fourth (29%) rated it excellent, and 55% rated it good. Just 16% rated it fair or poor.
Complications/Costs For National Employers
Multistate employers have special concerns about ColoradoCare. Amendment 69 does not allow employers to "opt out" of ColoradoCare – the payroll tax still applies, even if an employer chooses to provide a separate plan. The majority of multistate respondents say they are concerned both about added administrative complexity and about providing inconsistent benefits across states. "National employers are already dealing with a patchwork of state-specific benefit regulations, and having to work around ColoradoCare could make doing business in Colorado less attractive," said Ms. Watts.
Simple Majority Required for Passage
Currently, only a simple majority vote – 50% plus 1 – is required to make Amendment 69 a permanent part of the state constitution. (Coincidentally, there is another proposed amendment on Colorado's ballot this year – Amendment 71 – that would raise the required vote for approval of state constitutional amendments to a 55% supermajority vote.) "Our advice for benefit professionals is to make sure your company leaders are aware of Amendment 69 – and the simple majority needed to pass it – so they can make an informed decision about its impact," said Ms. Watts. "And if you provide health coverage to employees in Colorado, be sure they know how Amendment 69 would change that."

*Source: kff.org, "Health Insurance Coverage of the Total Population, 2014"
About the survey
Mercer surveyed 151 benefits professionals at 121 organizations throughout Colorado. Approximately one-third of respondents have fewer than 50 employees, one-third have 50-499 and one-third have more than 500 employees. The median number of employees in the respondent group was 125. The survey was fielded in mid-July 2016.
About Mercer
Mercer is a global consulting leader in talent, health, retirement and investments. Mercer helps clients around the world advance the health, wealth and careers of their most vital asset – their people. Mercer's more than 20,000 employees are based in 43 countries and the firm operates in over 140 countries. Mercer is a wholly owned subsidiary of Marsh & McLennan Companies (NYSE: MMC), a global professional services firm offering clients advice and solutions in the areas of risk, strategy and people. With annual revenue of $13 billion and 60,000 colleagues worldwide, Marsh & McLennan Companies is also the parent company of Marsh, a leader in insurance broking and risk management; Guy Carpenter, a leader in providing risk and reinsurance intermediary services; and Oliver Wyman, a leader in management consulting. For more information, visit www.mercer.com. Follow Mercer on Twitter @Mercer.
Notes to Editors
ADDITIONAL INFORMATION ABOUT AMENDMENT 69
Colorado voters will decide in November whether to adopt a constitutional amendment requiring the state to establish a single-payer health plan for state residents, replacing the state's public exchange and other health care programs, including Medicaid, CHIP and workers' compensation (but not Medicare). The single-payer system, ColoradoCare, would be funded by employer and employee payroll taxes and federal money obtained through Affordable Care Act (ACA) waivers. All residents would be eligible for coverage and they could use any provider that accepts ColoradoCare, which, like Medicare, would set provider reimbursement rates. A new, independent, 21-person board would implement and administer the program. More about Amendment 69 can be found here, but the key points for employer health plan sponsors are:
Employer mandate goes away. Assuming ColoradoCare qualifies for an ACA waiver, employers with 50 or more full-time employees would no longer be required to offer an affordable and qualified health plan to employees or pay a penalty if they do not. Smaller employers would no longer receive a subsidy to offer a plan. Instead, they and their employees would be subject to a new payroll tax.
New payroll taxes will be imposed. A 10% payroll tax will be levied to fund ColoradoCare, with 6.67% to be paid by the employer and 3.33% to be paid by employees (with caps on taxable income for very high earners). There would be a 10% tax on non-payroll income as well. Before ColoradoCare is operational, a lower tax will be imposed to get the Board up and running.
Benefit coverage The proposed list of benefits is quite general, and covered providers have yet to be defined. The initial proposal calls for platinum-level coverage, with no annual deductible. Some services would require a copayment, others would be provided at no cost, as required by the ACA. Benefit coverage would be governed by a 21-member board of trustees.
No waivers for multistate employers. There is currently no mechanism to allow waivers for multistate employers to continue offering existing coverage consistently across locations. New taxes will still apply, even if employees are not covered through ColoradoCare.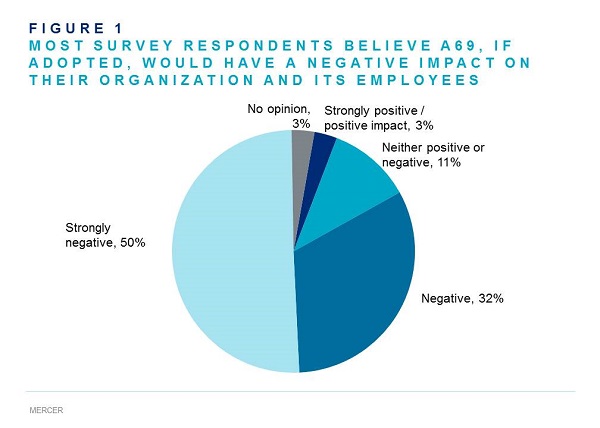 Source: Mercer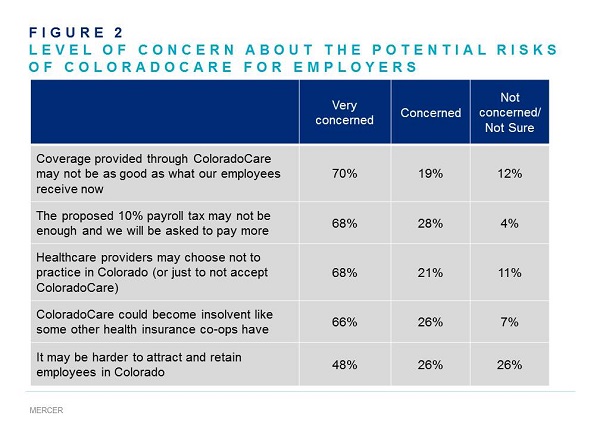 Source: Mercer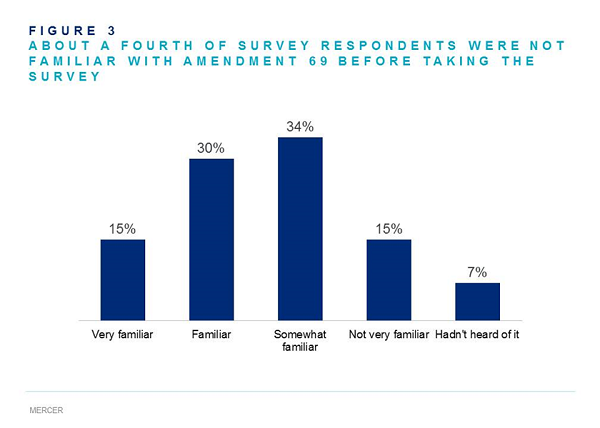 Source: Mercer