Mercer announced today that the firm has launched Mercer BenefitsCentralSM, a newly designed digital experience for its US Large Market Benefits Administration clients and their employees. Mercer BenefitsCentral uses an innovative, consumer-driven methodology to make benefits management simple and intuitive for individuals.
"Mercer BenefitsCentral combines cutting-edge, market-leading technology with a consumer-focused design and mobile-oriented functionality to provide the clear and personalized benefits management content and support that individuals want and increasingly expect," said Sandy McCarthy, Mercer's US Benefits Administration Leader. "Mercer BenefitsCentral will empower our clients' employees to become more confident, active managers of their benefits, while also providing HR leaders with access to enhanced reporting and analytics."
Specific enhancements include:
Mobile-first design methodology
In the United States, 58% of adults own a smartphone and 42% own a tablet, with adoption rates increasing rapidly.1 Today's consumers use mobile devices to check off many "to-do" list items – from paying bills to tracking fitness routines – and managing benefits should be no exception. Mercer BenefitsCentral's mobile-first functionality ensures seamless inquiry and transaction capabilities across all desktop, tablet, and mobile devices, enabling participants to manage benefits anytime, anywhere, with a consistent experience no matter the device.
Advanced personalization
Innovative personalization brings targeted messaging, educational resources, and program content to individuals based on specific interests, resulting in an engaging and customized experience. By leveraging Mercer's proprietary intellectual capital into strategic content and decision support, Mercer BenefitsCentral makes it easy for individuals to maximize benefits and take advantage of cost-saving opportunities, based on unique needs, habits, and goals, such as starting a family, buying a home, or preparing for retirement.
Intuitive and consumer-focused features
By integrating popular retail tools, such as shopping cart technology, cost and feature comparisons, and personalized guidance, Mercer BenefitsCentral presents users with a familiar experience, resembling the applications encountered in everyday life. Additionally, a modular and flexible homepage takes on a dashboard-style display and presents a suite of messaging and interactive tiles to users, highlighting valuable information, calls to action, and a holistic benefits overview (See Fig. 1). These user-friendly features make the benefits management process more intuitive and manageable for individuals.
Mercer BenefitsCentral launched in November 2014 for Mercer's Health and Benefits Administration clients and their employees. In 2015, Mercer BenefitsCentral will launch for Mercer's Retirement Plan Administration clients and their employees.
To learn more, please visit http://www.mercer.us/insights/focus/mercer-benefitscentral.html
About Mercer
Mercer is a global consulting leader in talent, health, retirement, and investments. Mercer helps clients around the world advance the health, wealth, and performance of their most vital asset – their people. Mercer's more than 20,000 employees are based in 42 countries, and the firm operates in over 140 countries. Mercer is a wholly owned subsidiary of Marsh & McLennan Companies (NYSE: MMC), a global team of professional services companies offering clients advice and solutions in the areas of risk, strategy, and human capital. With over 53,000 employees worldwide and annual revenue exceeding $11 billion, Marsh & McLennan Companies is also the parent company of Marsh, a global leader in insurance broking and risk management; Guy Carpenter, a global leader in providing risk and reinsurance intermediary services; and Oliver Wyman, a global leader in management consulting. For more information, visit www.mercer.com. Follow Mercer on Twitter @MercerInsights.
Figure 1: Dashboard displays a suite of interactive tiles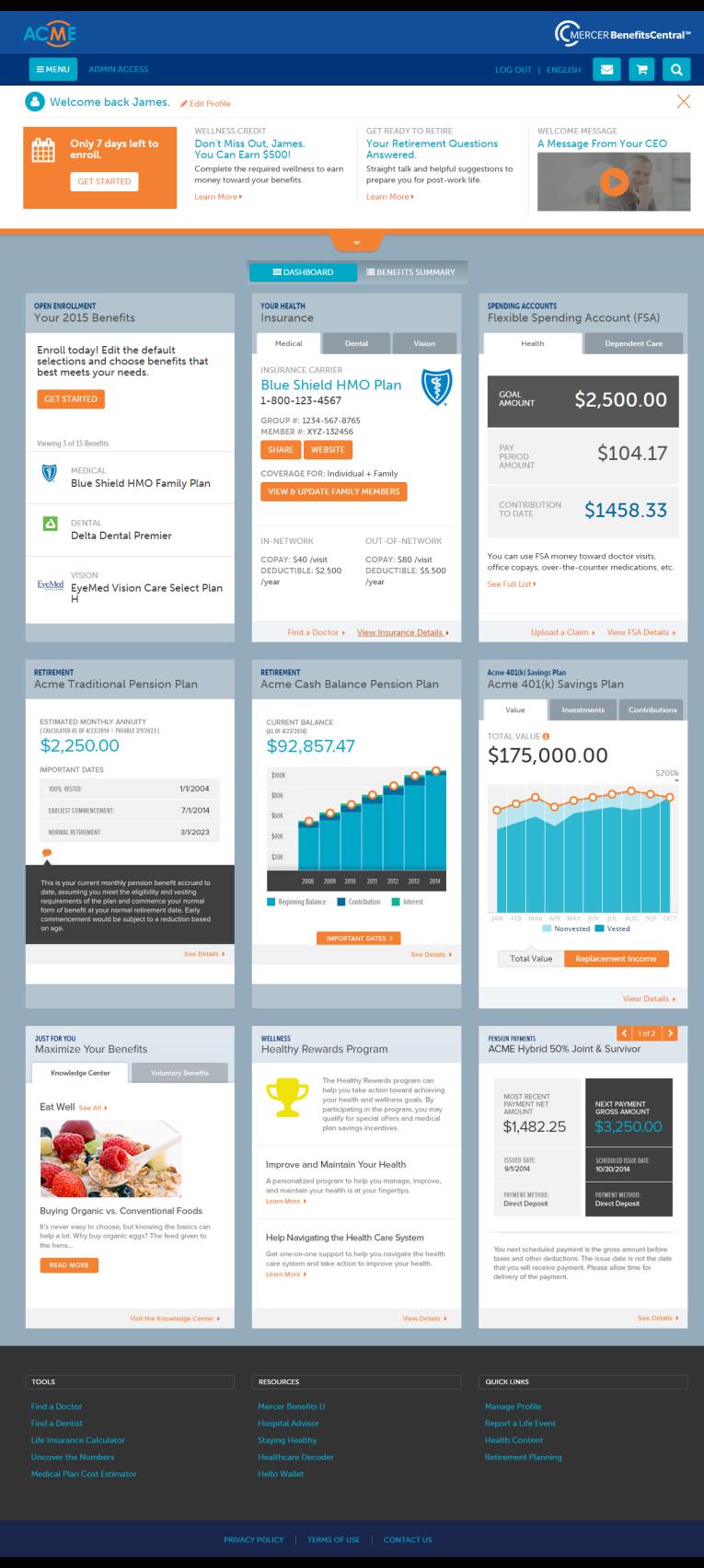 1Source: Pew Research Center Internet Project