As health care reform compliance deadlines loom and the trend of individual accountability comes to the forefront, planning for this year's open enrollment season is proving to be even more complex and confusing for plan sponsors nationwide. As a way to better ensure successful open enrollment outcomes, Mercer has developed a short checklist for employers to follow as they design, implement and roll out their 2015 health benefit program offerings.
(Re)Consider offering a Consumer-Directed Health Plan – The momentum behind Consumer-Directed Health Plans (CDHPs) continues to grow, with 39% of large employers offering one in 2013 and 64% expecting to do so by 20161. Mercer believes that now more than ever offering a CDHP, and encouraging participants to enroll, makes sense. CDHPs can be used to:
Reinforce individual accountability for health care consumption.
Reduce costs for employers and often for participants.
Assist in meeting the ACA-mandated "affordable coverage" requirement.
Help employers avoid the 2018 Excise Tax (i.e. the Cadillac Tax).
Provide a compliant auto enrollment default selection.
Communicate early and often to the newly eligible (and to those that are not) – 2015 is going to be the "big year" for the employer shared responsibility mandate under ACA. Mercer's research indicates that a third of employers still need to make changes to comply with the requirement to extend coverage to all employees working 30+ hours per week (10% have already done so; the rest were in compliance prior to the ACA)2. Mercer is urging sponsors who have large "newly eligible" populations to start communicating right away with this population as to who is eligible, why they are eligible, how eligibility was determined, what this means and what they have to now consider. Information should also be delivered to those who still remain ineligible and the options these employees may have in the public exchange arena.
Make voluntary benefits a big part of the open enrollment message – Voluntary benefits can deliver significant value to employees and are an important element of a thoughtfully designed benefits program. They can also be used to overcome misperceptions and confusion around other benefit offerings. For example, Mercer has worked with many clients who have introduced CDHPs, and their related high participant deductibles, to also promote voluntary benefits like hospital indemnity plans as a complimentary offering in order to help assuage fears of potentially high out-of-pocket expenses. These offerings can also assist employees who remain ineligible for the employer-sponsored medical plan.
Use open enrollment as an opportunity to reinforce wellness campaigns – Mercer is encouraging all of its clients with new or existing wellness campaigns to use open enrollment as a means to reinforce the value and rules surrounding these programs. This is particularly important if any perceived compliance penalties are going to be introduced next year, such as increased premiums for those who do not participate in health screenings.
Deploy decision support and mobile technology to support the accountability theme – Participants are being asked like never before to take accountability for their health benefit decisions and cost outlays. Mercer is helping clients identify the decision support and mobile technologies that empower this accountability at the exact time and place participants are making these important decisions. For example, some employers are providing digital "wallet cards" for smart phones and other devices that contain benefit information and contacts needed at the point of service or anywhere else a participant needs this information and/or advice (See Figure 1).
1Mercer's National Survey of Employer-Sponsored Health Plans, 2013.
2Mercer's Survey on Health Care Reform, 2014.
Figure 1: Mercer's digital wallet card provides benefit information and contact sources where and when participants need it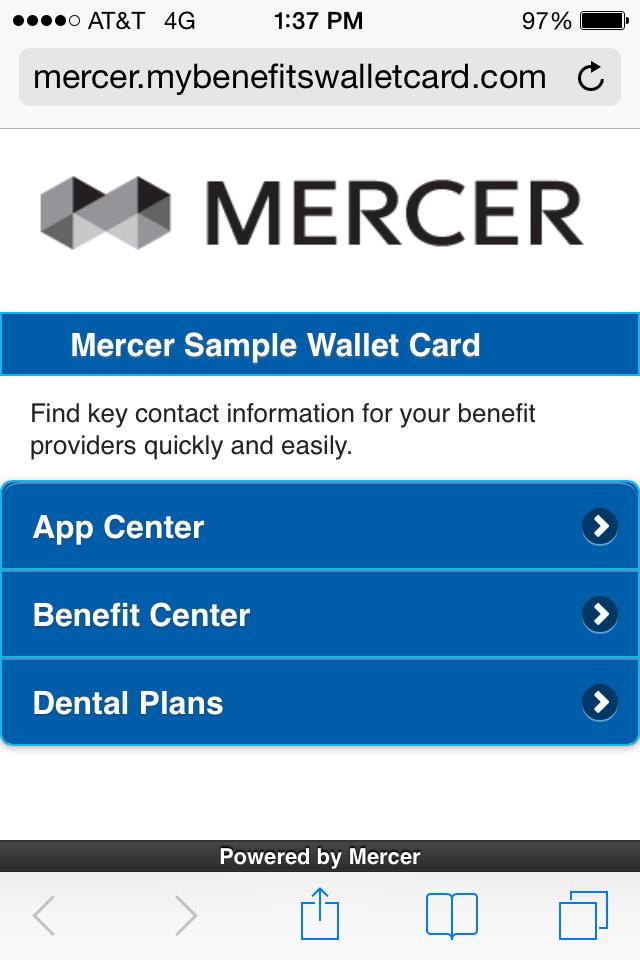 Mercer will be conducting a complimentary webcast on August 7, 2014, to discuss compliance issues plan sponsors should consider prior to open enrollment.
Many sponsors have made the strategic decision to move to private exchanges, such as Mercer Marketplace, and many more are actively looking to do so over the next few years. In addition to supporting all of the open enrollment features found in Mercer's checklist, private exchanges can deliver significant savings to both sponsors and participants while also enabling the personalization of benefits to a level far beyond that of traditional benefit programs. To learn more please visit http://www.mercer.com/services/health/benefits-and-health-exchanges.html
About Mercer
Mercer is a global leader in talent, health, retirement and investments. Mercer helps clients around the world advance the health, wealth and performance of their most vital asset – their people. Mercer's 20,000 employees are based in more than 43 countries and the firm operates in over 130 countries. Mercer is a wholly owned subsidiary of Marsh & McLennan Companies (NYSE: MMC), a global team of professional services companies offering clients advice and solutions in the areas of risk, strategy and human capital. With 55,000 employees worldwide and annual revenue exceeding $12 billion, Marsh & McLennan Companies is also the parent company of Marsh, a global leader in insurance broking and risk management; Guy Carpenter, a global leader in providing risk and reinsurance intermediary services; and Oliver Wyman, a global leader in management consulting. For more information, visit www.mercer.com. Follow Mercer on Twitter @MercerInsights.
# # #