7 in 10 use financial incentives for talent retention in M&A transactions, often well beyond executives and senior management

US (76%) second highest prevalence level after Japan (89%)

Tech industry buyers fund retention plans for CEOs and direct reports on average at 49% above the market median

Research uncovers retention framework
Utilizing retention programs in order to maximize the enormous 'people investment' made by global dealmakers is a nearly ubiquitous practice, according to Flight Risk in M&A: The Art and Science of Retaining Talent – 2017 Mercer Research Report. More than 7 in 10 dealmakers (71%) the world over say they use financial incentives for talent retention as part of their deal-making strategy and process. The research revealed, however, that regional, cultural and industry dynamics vary widely, and understanding and leveraging these variances are crucial to long-term deal value (see Figure 1).
"In taking a broad view of M&A worldwide, we see buyers flush with cash paying record multiples in order to complete transactions," said Jeff Cox, Mercer's Global Transactions Services Leader. "The common denominator in this activity is having the right people on board in order to drive superior operating performance. Our research includes a 'best-in-class' retention playbook for structuring financial incentives for talent retention programs that are time sensitive, affordable and competitively aligned."
The Flight Risk in M&A survey findings are based on responses from 243 corporate executives and private equity deal professionals involved in global transactions and 82 in-depth interviews. Most firms (69%) represented by respondents had 5,000 or more employees, and 77% had annual global revenue exceeding $1 billion. The research was triggered by the recent Mercer People Risks in M&A Transactions report which found that "employee retention" was the primary perceived risk for global dealmakers (see Figure 2).
Not just for the C-Suite
One significant trend that the Mercer research revealed is that talent retention programs are expanding below the C-suite. In fact, when asked about retention bonus eligibility outside of senior management and the C-suite, 70% listed "other employees critical for integration" and 35% listed "other employees regardless of critical for integration" (See Figure 3). This last figure is up 150% from the level found in Mercer's related research report published in 2012.
"Buyers and sellers are getting more sophisticated and nuanced about who they offer retention to and how deeply and broadly to go into the acquired organization," said Mercer's Gregg Passin, Senior Partner and North America Executive Rewards Practice Leader. "It is also important to differentiate between short-term cash payouts and longer-term equity awards. Well-designed and implemented retention programs are more commonly being viewed as a type of 'insurance' to help better ensure that the maximum value is derived from a given transaction."
The "where" matters
Mercer's look at global talent retention practices revealed that the location and industry of a given transaction can greatly influence talent retention practices and assumptions. These norms need to be understood and taken into account so as to avoid talent flight but also to ensure the right level of expenditure. In terms of industry, buyers and sellers need to be aware of certain industries that pay out financial incentives that vary greatly from the norm. For example, in the technology sector, buyers fund retention plans for all levels on average at 49% above the market median. From a geographic and business/cultural perspective:
United States – Foreign buyers often feel they must 'overspend' on talent retention in order to compete against domestic acquirers – especially if the domestic rival is publicly listed and can offer equity as part of the program. This need to overspend is also driven by the fact that typically retention bonuses and payouts are the most generous in the world, no matter where the acquirer is located, and the second in the world in prevalence (76%) behind only Japan.

Canada – Buyers often feel that the talent retention program in the US should cover all of North America – this is a mistake. Canadian payouts tend to be much more modest and therefore a distinct Canadian program should be developed that relies on local benchmarks and talent assessments. Prevalence is also much lower than in the US (63% versus 76%) but still common.

UK & Europe – European buyers are slightly less inclined than American buyers to offer financial incentives (67%). Among European buyers, 41% are offering retention bonuses to employees outside of senior management who are critical to the company's long-term success — those with key client or supplier relationships or with knowledge about essential IT systems.

Asia – Across Asia, buyers clearly see the need to use financial incentives, particularly for deals "outbound" from their home markets (94%). A good example is Japan, where 89% of buyers report offering retention programs, the highest single-market prevalence level reported. Acutely aware, however, of their shortage of management skills outside of the domestic market, Japanese buyers tend to retain local management in overseas acquisitions for at least one to three years. This singular focus on senior management is important, but it can obscure the long-term retention goal of identifying and developing future leaders.
Mercer's talent retention framework for deal makers
Based on its involvement in more than 1,200 transactions in any given year, Mercer has leveraged this experience and insight from this research to develop a retention framework (see Figure 4). This framework helps companies navigate the four main components of building the right retention program.
To download an executive summary of Mercer's Flight Risk in M&A report, please visit www.mercer.com/retention. The full report can be purchased at https://www.imercer.com/products/ma-retention.aspx.
Mercer will host a webcast to discuss the research results on June 29, 2017 1-2 pm eastern. Members of the media are invited to attend. Please register here.
About Mercer
Mercer is a global consulting leader in talent, health, retirement and investments. Mercer helps clients around the world advance the health, wealth and careers of their most vital asset – their people. Mercer's more than 20,000 employees are based in 43 countries and the firm operates in over 140 countries. Mercer is a wholly owned subsidiary of Marsh & McLennan Companies (NYSE: MMC), a global professional services firm offering clients advice and solutions in the areas of risk, strategy and people. With annual revenue of more than $13 billion and more than 60,000 colleagues worldwide, Marsh & McLennan Companies is also the parent company of Marsh, a leader in insurance broking and risk management; Guy Carpenter, a leader in providing risk and reinsurance intermediary services; and Oliver Wyman, a leader in management consulting. For more information, visit www.mercer.com. Follow Mercer on Twitter @Mercer.
Figure 1: Prevalence of retention bonuses in transactions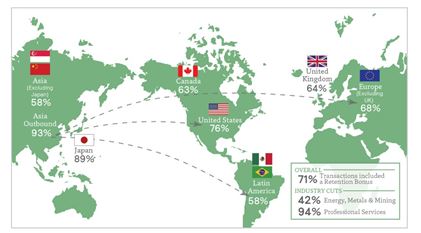 Source: Flight Risk in M&A: The Art and Science of Retaining Talent – 2017 Mercer Research Report
Figure 2: Employee retention is the primary concern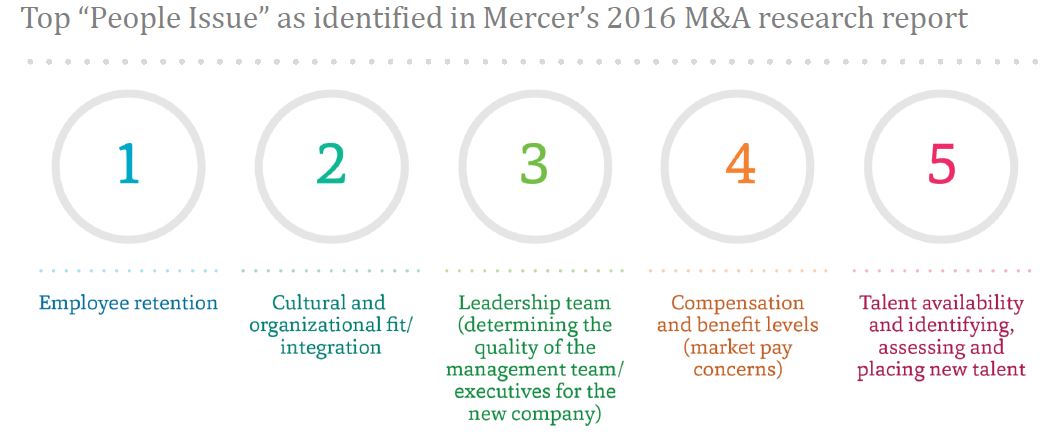 Source: Mercer's People Risks in M&A Transactions research report, 2016
Figure 3: Eligibility for retention bonuses globally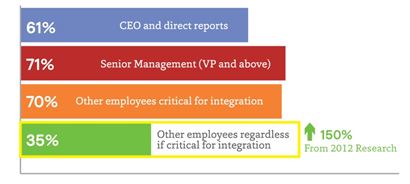 Source: Flight Risk in M&A: The Art and Science of Retaining Talent – 2017 Mercer Research Report

Figure 4: Mercer's talent retention framework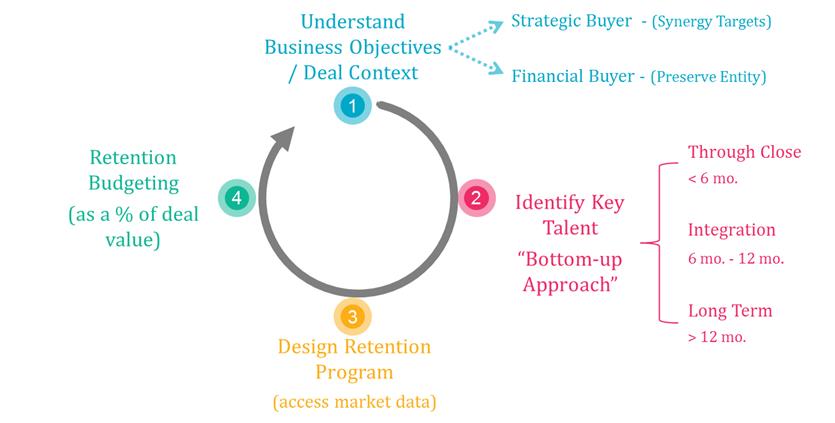 Source: Flight Risk in M&A: The Art and Science of Retaining Talent – 2017 Mercer Research Report