Forecasted average salary increases of 7.3% for 2015 (compared to 8.1% in 2008)
Double-digit turnover rates for almost all countries in Asia Pacific a worry for employers
Slow-down in hiring across Asia Pacific as more companies maintain existing headcount
According to labour market research conducted annually by ercer, a global consulting leader in advancing health, wealth and careers, Asia Pacific's emerging markets continue to lead the world in terms of real wage growth, with salary increases just 10% lower than pre-financial crisis levels, compared to the US and Europe which remain 20-30% adrift. (Figure 1)
Figure 1: Pay increase
*Average of median salary increases of countries in the region for Professional Non-Sales employee category
Salary figures and forecasts are based on Mercer's Annual Total Remuneration Survey (TRS), Salary Movement Snapshot (SMS) surveys and its bi-annual Market Pulse Surveys.
While salary increases in some emerging markets across the region remain at double digits or high single digits (Vietnam, India, and Indonesia), real wage growth (which is measured as salary increases minus inflation rate) still remains low, due to high inflation rates in these countries. For example the salary increase forecast for Indonesia for 2015 is 9.4%, however the real wage growth is only 2.2%, as the forecasted Inflation rate (CPI rate) is 7.2% for 2015. The minimum wage in countries like China, Indonesia, Thailand and Vietnam has continued to rise at a compounded rate of 12-13% every year over the last three to four years.
Salary increases for 2015 are expected to be higher than inflation across Asia Pacific, resulting in positive real wage growth in the region. (Please see notes section for 2015 forecast salary increases against inflation in Asia Pacific.)
"It is important to keep growth rates in perspective," said Puneet Swani, Partner, Information Solutions & Rewards Practice Leader - Asia, Middle East and Africa at Mercer. "While real wage growth is good news for emerging markets, on a percentage basis, absolute salary levels are still low in these countries, compared to more developed markets."
In worrying news for employers, the research also revealed doubt-digit turnover rates in almost all Asia Pacific countries, with the exception of Japan and South Korea. Despite the recent stabilization in voluntary turnover rates, the rising numbers represent a major challenge in terms of replacement costs in the form of higher salaries for new joiners, recruitment costs and lost production, all of which negatively impacts overall cost of operations and margins that are already under close scrutiny.
"After a gap of three years, we are seeing changes in hiring intentions in Asia Pacific," said Puneet Swani. "The consistent hiring which had continued unabated over the past three years has begun to slow down. Although four or five companies out of ten are still looking to increase headcount, especially in emerging economies, this number has decreased from six to seven in the past few years. Sales and marketing, technical/engineering and, finance & accounting functions continue to lead the pack in terms of where maximum hiring is happening," he added
The technology industry was revealed to have the lowest salary increase forecast for 2015 in eight out of 14 countries in the region, as compared to major Industries, with life sciences forecasting the highest salary increases in seven out of 14 countries (See figure 3 in the notes section).
Notes to editors
Figure 2: 2015 Forecast for salary increase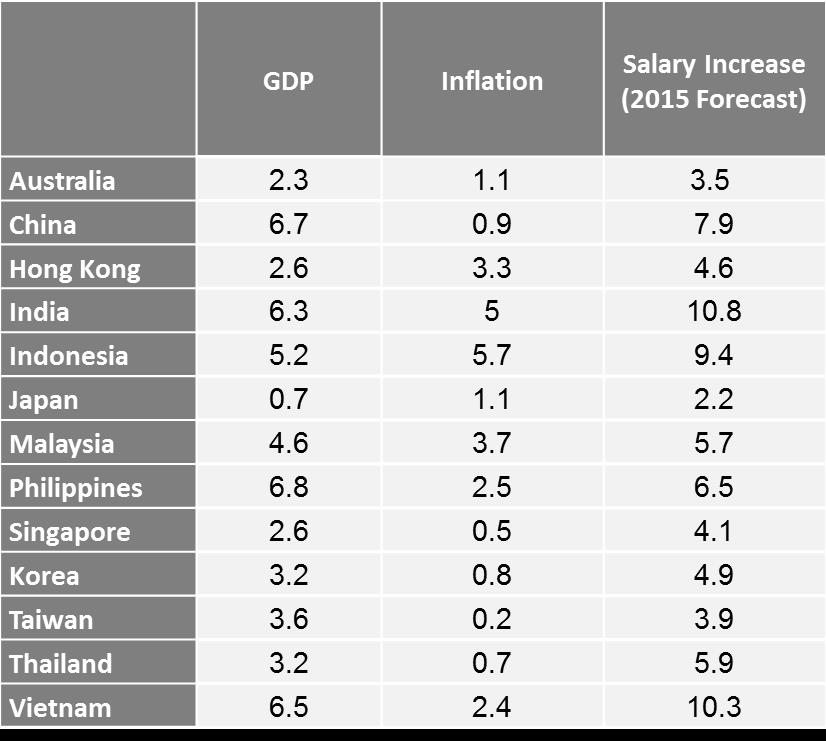 Figure 3: Salary increase by industry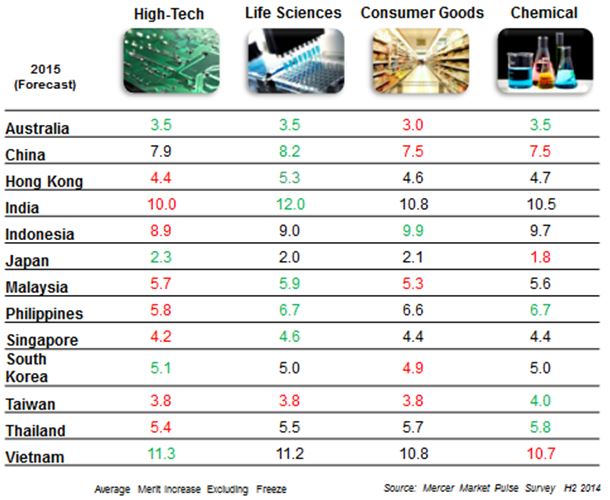 Average Merit Increase Excluding Freeze
Source: Mercer Market Pulse Survey H2 2014
About Mercer
Mercer is a global consulting leader in health, wealth and careers. Mercer helps clients around the world advance the health, wealth and performance of their most vital asset – their people. Mercer's more than 20,000 employees are based in more than 40 countries and the firm operates in over 130 countries. Mercer is a wholly owned subsidiary of Marsh & McLennan Companies (NYSE: MMC), a global professional services firm offering clients advice and solutions in the areas of risk, strategy and people. With 57,000 employees worldwide and annual revenue exceeding $13 billion, Marsh & McLennan Companies is also the parent company of Marsh, a leader in insurance broking and risk management; Guy Carpenter, a leader in providing risk and reinsurance intermediary services; and Oliver Wyman, a leader in management consulting. For more information, visit www.mercer.com. Follow Mercer on Twitter @Mercer.