2012 - Global - Cost-of-Living Information Services
March 2012 edition now available
The key to designing accurate expatriate compensation packages
If you help manage your company's expatriate program, ask yourself:

Just how cost-effective is your expatriate management process?
Are you really solving your mobility issues by granting generous cost-of-living allowances?
Is your process transparent? Does your supplier give you all the information you need to justify your decisions?
Are your cost-of-living allowances based on prices gathered by your expatriates or others who fly in and out?
How can you keep your compensation approach consistent when transferring employees from developing countries where incomes are lower?

Follow us on Twitter for COL updates

View the Cost-of-Living Results press release

Download Cost-of-Living Differentials white paper

Understanding Mercer's two Cost of Living methodologies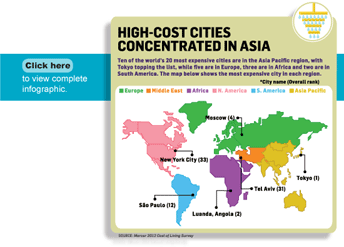 We have answers:
To encourage mobility and to manage your international assignment costs, you need precise information to calculate fair, consistent expatriate compensation packages. With offices in 42 countries and territories, Mercer brings you factual, objective price information from 300 cities around the world.
Based on over 200 goods and services, our surveys are conducted by professional researchers in each location we cover. Carefully chosen vendors reflect only those outlets where your expatriates can buy goods and services of international quality.

Key features and benefits:
An international basket of goods and services reflecting realistic spending habits established through years of extensive expatriate research.
Distinct cost-of-living (COL) indices for different types of expatriate shoppers.
Online calculators that allow you to use data for your specific needs.
Reasonable, realistic indices.
Full list of stores and sources where prices are collected.
Immediate estimation of the cost-of-living allowance (COLA) using our Cost-of-Living Allowance Calculators.
Current information, with locations extensively surveyed twice a year by professional researchers.
More frequent updates for markets in flux.
Special cities surveyed upon request.
Methodologies that let you determine competitive purchasing power for all your employees, wherever they come from.
Cost-of-Living Reports

View COL Sample report
Mercer's Cost-of-Living information provides all the key elements you need to calculate cost-of-living allowances as well as the supporting information required to ensure full acceptance and understanding of the results.

Multinational comparison
The Mercer Multinational Cost-of-Living approach develops cost-of-living indices and differentials based on a blended international spending pattern. The methodology assumes a convergence of spending patterns among expatriates of companies employing a variety of expatriates with complex assignment patterns and from many different nationalities. With weighting of goods and services the same for all locations, this approach compares prices of similar brands and from similar retail outlets in both the home city and host city.

Home-to-host comparison
The Mercer ORC Home/Host Cost-of-Living approach develops cost-of-living indices and differentials based on the unique spending patterns in a base (usually home or headquarters) country. By using different weights for each home country, it ensures that expatriates can retain their expenditure pattern in the host location. This compares prices in the home country from a local-national perspective to prices in the host city from an expatriate perspective.

List of stores and sources
A full list of stores and sources supporting the COL index ensures that our process is completely transparent.

Home Country Spendable Income Tables
The Spendable Income Tables report the typical amount an employee spends on goods and services in his/her home country. Used in conjunction with our COL indices, they support you in determining appropriate cost-of-living allowances.
The Spendable Income Tables are based on national consumer expenditure statistics for major countries. The tables are broken down by income level and family size, from single employees to couples with four children.

International Spendable Income Tables: compensating employees from low income countries
If the spendable income portion of a salary is too small, no index can adjust it to make it sufficiently competitive.
To address this problem, Mercer has developed International Spendable Income Tables, which allow companies to substitute non-competitive home country spendable income with benchmark spendable income levels. The International Spendable Income Tables provide you with the ability to develop competitive spendable incomes for your employees wherever they come from, while allowing you to keep a consistent "home country" compensation approach.

Home country housing norms tables
These tables provide the hypothetical amounts that employees normally spend on housing in their home country and are used to determine the employee's contribution towards housing costs in the host country. Tables are broken down by income level and family size, from single employees to couples with four children.

Expatriate accommodation cost tables
Mercer's Host City Accommodation Tables help you determine the housing allowance for your employees when transferred abroad. Monthly housing rental cost are provided for each host location.
Accomodation type: provide monthly rental costs for different-sized apartments and houses, furnished and unfurnished, in different areas.
Number of bedrooms: provide expatriates' monthly rental costs for an apartment with one to four bedroom or for a house three or four bedrooms.

International education information
Mercer provides accurate information for schools including American, English, French, German, International, Italian, Japanese and Scandinavian, when available.

Business travel expenses tables
Mercer's Travel Expenses Tables provide a daily allowance rate, representing typical daily costs for employees on business trips. The data cover hotels, meals, taxis and miscellaneous expenses.

Mercer advisory services
Mercer's Global Mobility consultants are available to advise you as you strive to manage your employees on international assignments, including program design, benchmarking, process review, partial outsourcing, localization, and benefits management. Please contact your local Mercer office for details.
Publication Date
Report Available
14-May-2012
Pricing Options
Cost-of-Living Reports
The report includes city-to-city index comparison, spendable income table, home country housing norms, expatriate accommodation costs, education costs, business travel expenses and actual price list.
Credit card items will be charged in United States Dollars (USD), then converted to the daily currency rate of your credit card which could result in a different price than that listed above. Invoice items will be charged in the currency of your choice.
---